List of JAMB Approved CBT Registration Centers Nationwide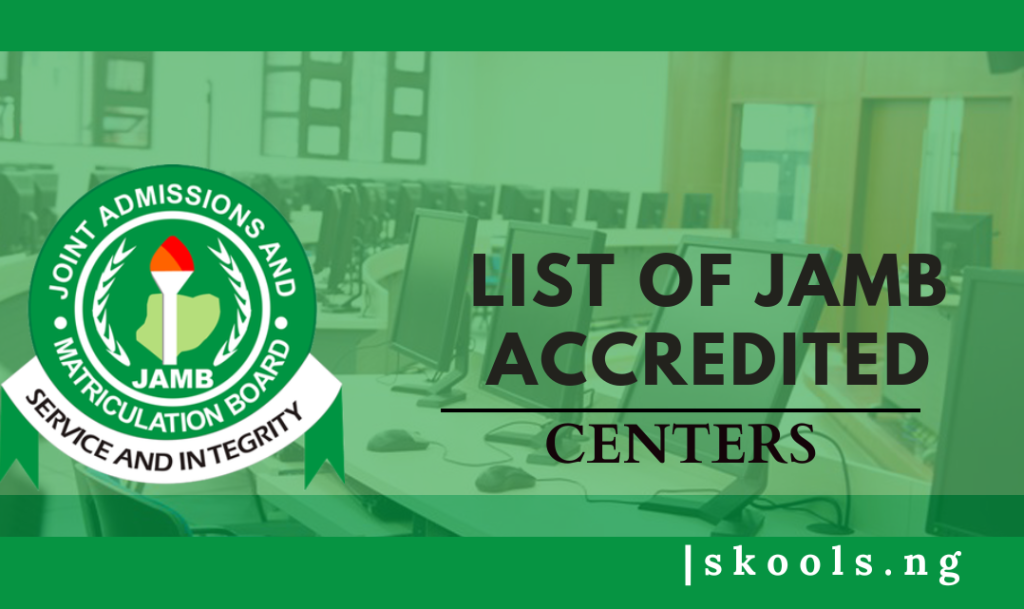 The Joint Admissions and Matriculation Board (JAMB) has released the list of CBT Centers that are authorized and accredited to register the UTME and Direct Entry (DE). Candidates should note that only certified locations nationwide are available for UTME/DE registration.
Below is a comprehensive list of JAMB approved CBT registration centers Nationwide. Meanwhile, here's how to Check JAMB Result.
JAMB REGISTRATION CENTERS IN ABIA
| | | | |
| --- | --- | --- | --- |
| 1 | ABIA | UMUAHIA | AMABLE NIGERIA LIMITED, NO 3 OLD TIMBER ROAD, UMUAHIA, ABIA STATE |
| 2 | ABIA | UMUAHIA | XYZ TECHNOLOGIES, NEW SECRETATIAT, BESIDE UCDA BUILDING, OFF ASUBEB JUNCTION,UMUAHIA, ABIA STATE |
| 3 | ABIA | UMUDIKE | MICHAEL OKPARA UNIVERSITY OF AGRICULTURE, E-TEST CENTRE, UMUDIKE, ABIA STATE |
| 4 | ABIA | UMUNNEOCHI | IHECHUKWU MADUBUIKE INSTITUTE OF TECHNOLOGY, NKWOAGU-AMUDA, ISUOCHI, NEAR UMUNNEOCHI LGA HEADQUARTERS, UMUNNEOCHI, ABIA STATE |
| 5 | ABIA | OKOKO-ITEM | JAMB PROFESSIONAL TEST CENTRE, UZO OKAGWE, OKOKO-ITEM, BENDE LGA, ABIA STATE. |
JAMB REGISTRATION CENTERS IN ADAMAWA
| | | | |
| --- | --- | --- | --- |
| 6 | ADAMAWA | MUBI | FEDERAL POLYTECHNIC, BONI HARUNA ROAD AFTER TECHNICAL SECONDARY SCHOOL BARAMA MUBI NORTH, ADAMAWA STATE |
| 7 | ADAMAWA | YOLA | ALIYU MUSTAFA ACADEMY, ICT CENTRE, 19-21 BAUSHE STREET, UPPER LUGGERE ROAD, JIMETA-YOLA, ADAMAWA STATE |
| 8 | ADAMAWA | YOLA | AMERICAN UNIVERSITY OF NIGERIA, ICT CENTRE, 226, MODIBBO ADAMA WAY, YOLA, ADAMAWA STATE |
| 9 | ADAMAWA | YOLA | FEDERAL COLLEGE OF EDUCATION, KABIRU ISHIAKU E-LIBRARY, YOLA, ADAMAWA STATE |
| 10 | ADAMAWA | YOLA | JAMB STATE OFFICE YOLA, ADAMWA STATE |
| 11 | ADAMAWA | YOLA | MODIBBO ADAMA UNIVERSITY OF TECHNOLOGY, (MAUTECH) CBT HALL, ALONG MUBI ROAD, GIREI LGA, YOLA, ADAMAWA STATE |
| 12 | ADAMAWA | YOLA | MODIBBO ADAMA UNIVERSITY OF TECHNOLOGY, CENTRE-2, ALONG MUBI ROAD, GEREI LGA, YOLA, ADAMAWA STATE |
| 13 | ADAMAWA | YOLA | MODIBBO ADAMA UNIVERSITY OF TECHNOLOGY, CENTRE-3, ALONG MUBI ROAD, GEREI LGA, YOLA, ADAMAWA STATE |
| 14 | ADAMAWA | MUBI | ADAMAWA STATE UNIVERSITY, ABDULRAHMAN GHALI E – LIBRARY, MUBI, ADAMAWA STATE. |
| 15 | ADAMAWA | YOLA | CAPITAL GOVERNMENT DAY SECONDARY SCHOOL, GALADIMA AMINU WAY, JIMETA -YOLA NORTH L.G.A, ADAMAWA STATE |
| 16 | ADAMAWA | YOLA | LAMIDO ZUBAIRU EDUCATION CENTER, OPP. CENTER FOR DISTANCE LEARNING, YOLA TOWN BYE PASS, ADAMAWA STATE |
| 17 | ADAMAWA | MUBI | AMJAD INTEGRATED SERVICES NIG. LTD GSS JUNCTION, NEAR EMIR'S PALACE LOKUWA, MUBI NORTH LGA, ADAMAWA STATE |
| 18 | ADAMAWA | YOLA | DARUL ARQAM ISLAMIC INSTITUTE, LAMIDO ZUBAIRU ROAD, YOLA BYE-PASS YOLA TOWN, ADAMAWA STATE |
JAMB REGISTRATION CENTERS IN AKWA IBOM
| | | | |
| --- | --- | --- | --- |
| 19 | AKWA-IBOM | UYO | JAMB STATE OFFICE, ATIKU-ABUBAKAR ROAD UYO, NEAR STATE SECRETARIAT, UYO, AKWA IBOM STATE. |
| 20 | AKWA-IBOM | UYO | PTDF E-RESOURCE CENTRE, UNIVERSITY OF UYO, TOWN CAMPUS ANNEX, AKWA IBOM STATE |
| 21 | AKWA-IBOM | ONNA | KEMEGOLD NIGERIA LTD, ONNA PEOPLES HIGH SCHOOL,ABBA, ONNA, AKWA IBOM STATE |
| 22 | AKWA-IBOM | IKOT-EKPENE | IBOM INSTITUTE OF MANAGEMENT AND TECHNOLOGY, OFF ABA ROAD, BY MICKON FILLING STATION, IKOT EKPENE, AKWA IBOM STATE |
| 23 | AKWA-IBOM | IKOT-EKPENE | ROLINS KING INFOTECH AND MANAGEMENT TECHNOLOGY CTR 2, NO 15 LIBRARY AVENUE, IKOT EKPENE AKWA IBOM STATE. |
| 24 | AKWA-IBOM | UYO | GESTRIC INFORTECH AND MANAGEMENT INSTITUTE CTR 2, NO 74 ORON ROAD, UYO AKWA IBOM STATE |
| 25 | AKWA-IBOM | AFAHA NSIT | AKWA IBOM STATE COLLEGE OF EDUCATION, CBT CENTRE, AFAHA NSIT, NSIT IBOM |
| 26 | AKWA-IBOM | IKONO | LOAM POLYTECHNIC, KM 4, OLD ITU ROAD, IKONO AKWA IBOM STATE |
| 27 | AKWA-IBOM | IKOT-AKPADEN | AKWA IBOM STATE UNIVERSITY, ICT CENTRE. IKOT AKPADEN, MKPAT ENIN LGA, AKWA IBOM STATE |
| 28 | AKWA-IBOM | OBONG NTAK | OBONG UNIVERSITY CBT CENTRE, OBONG NTAK, ETIM EKPO LGA, AKWA IBOM STATE |
| 29 | AKWA-IBOM | UYO | HERITAGE DIGI-LINK INT'L LTD, 178 HERITAGE HOUSE , IKOT EKPENE ROAD, UYO, AKWA IBOM STATE |
| 30 | AKWA-IBOM | EKET | DIVINE SEEDS PRINTING CBT CENTRE, 20 EDIAM STREET EKET |
JAMB REGISTRATION CENTER IN ANAMBRA
| | | | |
| --- | --- | --- | --- |
| 31 | ANAMBRA | AWKA | GRAFIL COMPUTERS LIMITED, GRAFIL HOUSE HIGH TENSION ROAD, OPPOSITE THRILLERS, AROMA, AWKA, ANAMBRA STATE |
| 32 | ANAMBRA | AWKA | INTEGRAL DEVELOPMENT KONSULT, 18/20 ENUGU-ONITSHA EXPRESSWAY, WHITE HOUSE, AWKA, ANAMBRA STATE. |
| 33 | ANAMBRA | AWKA | JAMB STATE OFFICE, AWKA , ANAMBRA STATE |
| 34 | ANAMBRA | NNEWI | CHUMET INSTITUTE LIMITED, NO. 270 OLD ONITSHA ROAD, OPPOSITE ANGLICAN GIRLS SECONDARY SCHOOL URUAGU NNEWI, ANAMBRA STATE |
| 35 | ANAMBRA | OKO | FEDRAL POLYTECHNIC OKO AUDITORUM CENTRE III ANANMBRA STATE |
| 36 | ANAMBRA | OKO | FEDERAL POLYTECHNIC OKO AUDITORUM CENTRE IV ANAMBRA STATE |
| 37 | ANAMBRA | NSUGBE | NWAFOR ORIZU COLLEGE OF EDUCATION NSUGBE, CBT CENTRE 3:3 JUNCTION,NSUGBE, ANAMBRA STATE |
| 38 | ANAMBRA | OKO | FEDERAL POLYTECHNIC OKO MASS COMMUNICATION CENTRE II ANAMBRA STATE |
| 39 | ANAMBRA | OKO | FEDERAL POLYTECHNIC OKO MASS COMMUNICATION CENTRE I ANAMBRA STATE |
| 40 | ANAMBRA | AWKA | NNAMDI AZIKIWE UNIVERSITY AWKA DIGITAL LIBRARY CENTRE I, INSIDE PROF FESTUS AGHAGBO DIGITAL LIBRARY, ANAMBRA STATE |
| 41 | ANAMBRA | AWKA | NNAMDI AZIKIWE UNIVERSITY AWKA DIGITAL LIBRARY CENTRE II, INSIDE PROF FESTUS AGHAGBO DIGITAL LIBRARY, ANAMBRA STATE |
| 42 | ANAMBRA | NNEWI | AFRITECH CBT CENTER, No 65/67 Ukpor Road, Through Larcel Junction, Beside Lippo Water or Behind Cento |
| 43 | ANAMBRA | NSUGBE | NWAFOR ORIZU COLLEGE OF EDUCATION NSUGBE E – LIBRARY, CENTRE 2, 3:3 JUNCTION,NSUGBE, ANAMBRA STATE |
| 44 | ANAMBRA | UMUNZE | FEDERAL COLLEGE OF EDUCATION (TECHNICAL) UMUNZE -MAIN CAMPUS CENTRE I,UMUNZE, ANAMBRA STATE |
| 45 | ANAMBRA | ONITSHA | LADY HANNAH CBT CENTRE, ST. JAMES ANGLICAN CHURCH OPPOSITE ABS TELEVISION STATION, ORAIFITE STREET, AWADA,ONITSHA, ANAMBRA STATE |
| 46 | ANAMBRA | OBA | BISHOP EVANS IBEAGHA JUNIORATE CBT CENTRE I, KM9 BEHINDE DE-BASE FILLING STATION OBA-NNEWI, ONITSHA NEW-ROAD, ANAMBRA STATE |
| 47 | ANAMBRA | AWKA ETITI | ALPHABASE INTEGRATED TECHNOLOGIES UMUDUNU CIVIC HALL, UMUDUNU VILLAGE AWKA-ETITI, IDEMILI SOUTH LGA, ANAMBRA STATE |
| 48 | ANAMBRA | ONITSHA | MAYRAYS DIGITAL PLUS, MAYRAYS SCHOOLS ICT CENTRE, HOUSING ESTATE, FEGGE ONITSHA, ANAMBRA STATE |
| 49 | ANAMBRA | UMUNZE | FEDERAL COLLEGE OF EDUCATION (TECHNICAL) UMUNZE -MAIN CAMPUS CENTRE II, ANAMBRA STATE |
| 50 | ANAMBRA | NANKA | ST ANTHONY OF PADUA ICT HUB BESIDE FIDER PILLAR EKWULUOBIA, AWKA RD NANKA, ANAMBRA STATE |
| 51 | ANAMBRA | ADAZI-NNUKWU | ANPLUS INTERGRATED SERVICES, AFOR MARKET BYPASS, AGULU – NNEWI ROAD, ADAZI – NNUKWU, ANAMBRA STATE |
| 52 | ANAMBRA | AWKA | KACHUKWURU VENTURES STAFF DEVELOPMENT CENTRE AWKA, BEHING GOVERNMENT HOUSE, ANAMBRA STATE |
| 53 | ANAMBRA | AWKA | ST. JOHN OF GOD ICT HUB, BESIDE ST. PATRICK'S CATHOLIC CATHEDRAL AWKA, ANAMBRA STATE |
| 54 | ANAMBRA | ONITSHA | CHRIST DE KING I.C.T CENTRE, ADJACENT CHRIST THE KING PARISH, OGUTA ROAD, ONITSHA |
| 55 | ANAMBRA | NNEWI | GREENTREE FREEDOM ACADEMY ICT HUB #10212 ST. JOSEPH CENTRAL SCHOOL IHIALA |
| 56 | ANAMBRA | OKO | HOLY ROSARY VOCATION AND INNOVATIVE INSTITUTE, IGBOUKWU BESIDE ST. PETER'S ANGLICAN CHURCH OBIUNO, ALONG IGBOUKWU-EKWULUMMIRI ROAD |
| 57 | ANAMBRA | ENUGWU-UKWU | NOBLE LIGHT GOLD, NEAR JASPINO HOTELS, BY RING ROAD, ENUGWU-UKWU |
| 58 | ANAMBRA | ONITSHA | EVERGREEN I.C.T LIMITED, WASHINGTON MEMORIAL SECONDARY SCHOOL, OPPOSITE G-TIME FILLING STATION BY AWKA ROAD |
| 59 | ANAMBRA | ONITSHA | COMMUNITY FOSTER ICT CENTRE, 3 ONOJOBOLI STREET BY MODEBE SECONDARY SCHOOL, ONITSHA |
| 60 | ANAMBRA | ONITSHA | INFOTECH IT LTD, OGATULENYI DRIVE, ATANI |
JAMB REGISTRATION CENTER IN BAUCHI
| | | | |
| --- | --- | --- | --- |
| 61 | BAUCHI | AZARE | AMINU SALEH COLLEGE OF EDUCATION, AZARE, BAUCHI, ALONG POTISKUM-MAIDUGURI ROAD, AZARE BAUCHI STATE. |
| 62 | BAUCHI | BAUCHI | ABUBAKAR TAFAWA BALEWA UNIVERSITY, BAUCHI, BAUCHI STATE |
| 63 | BAUCHI | BAUCHI | ABUBAKAR TATARI ALI POLYTECHNIC, BAUCHI, ATAP WUNTI DADA JOS ROAD, BAUCHI, BAUCHI STATE |
| 64 | BAUCHI | BAUCHI | ALFURQAN INTERNATIONAL ACADEMY, ALONG DASS ROAD, NEAR YARIMA GIADES HOUSE, BAUCHI STATE |
| 65 | BAUCHI | BAUCHI | DOLPHIN MARIA COLLEGE SUNDAY AWONIYI ROAD, OFF MUAZU FAH LINK, NEW G.R.A BAUCHI, BAUCHI STATE |
| 66 | BAUCHI | BAUCHI | GIWO SCIENCE ACADEMY CBT, GIWO SCIENCE ACADEMY, KANO ROAD, BAUCHI. BAUCHI STATE |
| 67 | BAUCHI | BAUCHI | JAMB ZONAL OFFICE, OFF AHMADU BELLO WAY, BAUCHI, BAUCHI STATE |
| 68 | BAUCHI | MISAU | MISAU EMIRATE ICT CENTRE, NO.5 KANO KARI ROAD, MISAU, BAUCHI STATE |
| 69 | BAUCHI | MISAU | A.D RUFA'I CLIS MISAU, A.D RUFA'I COLLEGE MISAU, BAUCHI STATE P.M.B 004, MISAU, BAUCHI STATE |
| 70 | BAUCHI | AZARE | HALL 1- JAMB/NCC PROFESSIONAL TEST CENTRE (PTC), AMINU SALEH COLLEGE OF EDUCATION, AZARE, BAUCHI STATE |
| 71 | BAUCHI | AZARE | HALL 2- JAMB/NCC PROFESSIONAL TEST CENTRE (PTC), AMINU SALEH COLLEGE OF EDUCATION, AZARE, BAUCHI STATE |
| 72 | BAUCHI | BAUCHI | SAFUZ ICT HUB, BSADP QUARTERS OFF DASS ROAD BAUCHI, BAUCHI STATE. |
List of JAMB Approved CBT Registration Centers In BAYELSA
| | | | |
| --- | --- | --- | --- |
| 73 | BAYELSA | YENAGOA | JAMB STATE OFFICE YENAGOA 3 POLICE HEADQUARTER ROAD OVOM, YENAGOA, BAYELSA STATE |
| 74 | BAYELSA | AMASSOMA | NIGER DELTA UNIVERSITY CTR1, NEW SITE AMASSOMA, BAYELSA STATE |
| 75 | BAYELSA | AMASSOMA | NIGER DELTA UNIVERSITY CTR2, NEW SITE AMASSOMA, BAYELSA STATE. |
| 76 | BAYELSA | TORU-ORUA | UNIVERSITY OF AFRICA TORU-ORUA SAGBAMA, BAYELSA STATE. |
List of JAMB Approved CBT Registration Centers In BENUE
| | | | |
| --- | --- | --- | --- |
| 77 | BENUE | KATSINA-ALA | INFORMATION AND COMMUNICATION TECHNOLOGY CENTRE, COLLEGE OF EDUCATION KATSINA-ALA, BENUE STATE |
| 78 | BENUE | MAKURDI | e-TC OPPOSITE COLLEGE OF AGRICULTURAL ECONOMICS AND EXTENSION, FEDERAL UNIVERSITY OF AGRICULTURE, MAKURDI, BENUE STATE |
| 79 | BENUE | OJU | COLLEGE OF EDUCATION OJU CBT CENTRE, BESIDE COLLEGE LIBRARY, COLLEGE OF EDUCATION, OJU, BENUE STATE |
| 80 | BENUE | OTUKPO | CBT CENTRE OTUKPO, 14, FEDERAL ROAD, OTUKPO, BENUE STATE |
| 81 | BENUE | OTUKPO | UNIVERSAL CYBERNET LTD, 3, OCHI'DOMA ROAD, OTUKPO, BENUE STATE |
| 82 | BENUE | IGA-OKPAYA | IGA ICT LTD., PLOT 3, BESIDE LGEA PRIMARY SCHOOL, IGA-OKPAYA, APA LGA, BENUE STATE. |
| 83 | BENUE | GBOKO | KIMOTA SCIENCE COLLEGE CBT CENTRE, KM 8, YANDEV-ALIADE BYE-PASS, GBOKO, BENUE STATE |
| 84 | BENUE | ANYIIN | ASHI POLYTECHNIC CBT CENTRE, ASHI POLYTECHNIC, ANYIIN, LOGO LGA, BENUE STATE |
| 85 | BENUE | GBOKO | QUEEN OF THE ROSARY SEC. SCH. CBT CENTRE, BEHIND TOTAL FILLING STATION ALONG MAKIR ZAKPE ROAD, GBOKO, BENUE STATE |
| 86 | BENUE | MAKURDI | ATHANS MODEL COLLEGE CBT CENTRE, OPP UBA, WURUKUM, MAKURDI, BENUE STATE |
| 87 | BENUE | ADIKPO | AMEEWUA MODEL COLLEGE ICT/CBT CENTRE, OPP HIGH COURT CLOSE TO KWANDE LOCAL GOVERNMENT SECRETARIAT, ADIKPO, KWANDE LGA, BENUE STATE |
| 88 | BENUE | MAKURDI | GREG & CO ICT HUB, 216, GONDO ALUOR ROAD, OLD GRA, MAKURDI, BENUE STATE |
| 89 | BENUE | MAKURDI | MAKURDI COLLEGE OF HEALTH SCIENCES AND TECHNOLOGY ICT CENTRE, OPP BSU COLLEGE OF HEALTH SCIENCES, MAKURDI, BENUE STATE. |
| 90 | BENUE | MAKURDI | INTERCONTINENTAL COLLEGE OF TECHNOLOGY MAKURDI (ICTM), KM2, NEW OTUKPO ROAD MAKURDI |
| 91 | BENUE | MAKURDI | PAMSSET CBT CENTRE, TSE-UBA ALONG POWER LINE, ALIADE |
| 92 | BENUE | GBOKO | FIDEI POLYTECHNIC GBOKO, KM 8 GBOKO ALIEDE ROAD , |
JAMB REGISTRATION CENTER IN BORNO
| | | | |
| --- | --- | --- | --- |
| 93 | BORNO | BIU | COLLEGE OF EDUCATION WAKA -BIU MAIDUGURI ROAD BIU LGA, BORNO STATE |
| 94 | BORNO | MAIDUGURI | JAMB ZONAL OFFICE MAIDUGURI , (REGISTRATION ONLY) BORNO STATE |
| 95 | BORNO | MAIDUGURI | UNIMAID ICT 1 CENTRE, OPP. ELKANEMI HALL, UNIVERSITY OF MAIDUGURI, MAIDUGURI, BORNO STATE |
| 96 | BORNO | MAIDUGURI | UNIMAID ICT 2 CENTRE, OPP.FACULTY OF PHARMACY, UNIVERSITY OF MAIDUGURI, MAIDUGURI,BORNO STATE |
| 97 | BORNO | MAIDUGURI | UNIMAID ICT 3 CENTRE, OPP. ELKANEMI HALL, UNIVERSITY OF MAIDUGURI, MAIDUGURI, BORNO STATE |
| 98 | BORNO | MAIDUGURI | RAMAT POLYTECHNIC CBT CENTRE, OPP. BORNO STATE REVENUE BOARD MAIDUGURI, BORNO STATE |
| 99 | BORNO | MAIDUGURI | AL-MUNEER INT'L COLLEGE (MOTIME COMMUNICATION) CBT/PROFESSIONAL CENTRE 1 OFF BIU ROAD MAIDUGURI, BORNO STATE |
| 100 | BORNO | MAIDUGURI | AL-MUNEER INT'L COLLEGE (MOTIME COMMUNICATION) CBT/PROFESSIONAL CENTRE 2 OFF BIU ROAD MAIDUGURI, BORNO STATE |
| 101 | BORNO | MAIDUGURI | NORTH EAST CHILDREN'S TRUST THE LEARNING CENTRE (NECT/TLC) 5, BIU ROAD, ADJACENT NAFDAC MAIDUGURI, BORNO STATE |
| 102 | BORNO | BIU | DIRECTORATE OF ICT NIGERIAN ARMY UNIVERSITY BIU CENTRE 1. NO 1 BIU-GOMBE ROAD, PMB 1500 BIU, BORNO STATE |
| 103 | BORNO | BIU | DIRECTORATE OF ICT NIGERIAN ARMY UNIVERSITY BIU CENTRE 2. NO 1 BIU-GOMBE ROAD, PMB 1500 BIU, BORNO STATE |
List of JAMB Approved CBT Registration Centers In CROSS-RIVER
| | | | |
| --- | --- | --- | --- |
| 104 | CROSS-RIVER | AKAMKPA | CROSS RIVER STATE COLLEGE OF EDUCATION ICT CENTRE, E-LIBRARY, AKAMKPA, CROSS RIVER STATE |
| 105 | CROSS-RIVER | CALABAR | UNIVERSITY OF CALABAR E-LIBRARY COMPLEX, ETTE AGBOR ROAD, CALABAR, CROSS RIVER STATE |
| 106 | CROSS-RIVER | CALABAR | JAMB STATE OFFICE, CALABAR, 41 OKORO AGBOR STREET, OFF MARIAN ROAD, CALABAR, CROSS RIVER STATE. (REGISTRATION ONLY) |
| 107 | CROSS-RIVER | CALABAR | CROSS RIVER UNIVERSITY OF TECHNOLOGY (CRUTECH CBT), EKPO ABASI, CALABAR SOUTH, CROSS RIVER STATE |
| 108 | CROSS-RIVER | OBUDU | FEDERAL COLLEGE OF EDUCATION, DR JOSEPH WAYAS LIBRARY, OBUDU, CROSS RIVER STATE. |
| 109 | CROSS-RIVER | OGOJA | BEEPS TECHNOLOGY LIMITED, 19 OBUDU STREET, IGOLI, OGOJA, CROSS RIVER STATE |
| 110 | CROSS-RIVER | OKUKU | KLINNICAPPS ACADEMY, OLD IMAJE ROAD, FORMERLY CHRISTIAN SECONDARY COMMERCIAL SCHOOL, OKUKU, YALA, CROSS RIVER STATE. |
| 111 | CROSS-RIVER | CALABAR | SWIFTCOM GLOBAL, FED. AIRPORT AUTHORITY OF NIG. (FAAN) SEC. SCH. IBB WAY, CALABAR, CROSS RIVER STATE |
List of JAMB Approved CBT Registration Centers In DELTA
| | | | |
| --- | --- | --- | --- |
| 112 | DELTA | ABRAKA | DELTA STATE UNIVERSITY, DIGITAL CENTRE, ABRAKA, DELTA STATE |
| 113 | DELTA | ABRAKA | DELTA STATE UNIVERSITY, ELECTRONIC EXAM CENTRE 1, CAMPUS 3, ABRAKA, DELTA STATE |
| 114 | DELTA | ABRAKA | DELTA STATE UNIVERSITY, ELECTRONIC EXAM CENTRE 2, CAMPUS 3, ABRAKA, DELTA STATE |
| 115 | DELTA | ASABA | JAMB PROFESSIONAL TEST CENTRE (PTC), JAMB STATE OFFICE, ASABA, OKPANAM ROAD, BY NTA JUNCTION, ASABA, DELTA STATE |
| 116 | DELTA | EFFURUN | PETROLEUM TRAINING INSTITUTE, NO. 1, P.T.I ROAD, EFFURUN, DELTA STATE |
| 117 | DELTA | EMEVOR | ADAM IGBUDU CHRISTIAN INSTITUTE, UGHELLI-OZORO ROAD, EMEVOR, DELTA STATE |
| 118 | DELTA | OGWASHI-UKU | DELTA STATE POLYTECHNIC, OGWASHI-UKU, ALONG AZAGBA ROAD, OGWASHI-UKU CENTRE 1, DELTA STATE |
| 119 | DELTA | UGHELLI | MICHEAL AND CECILIA IBRU UNIVERSITY (MCIU), IBRU VILLAGE, AGBARHA-OTOR, UGHELLI, DELTA STATE |
| 120 | DELTA | UGHELLI | MICHEAL AND CECILIA IBRU FOUNDATION COLLEGE OF EDUCATION CTR-2 AGBARHA-OTOR UGHELLI, DELTA STATE |
| 121 | DELTA | UGHELLI | MICHEAL AND CECILIA IBRU UNIVERSITY(MCIU), IBRU FOUNDATION COLLEGE OF EDUCATION CTR-3 AGBARHA-OTOR UGHELLI, DELTA STATE |
| 122 | DELTA | EFFURUN | BENCHILL SCHOOLS, NO. 1, DN DUDU CLOSE, OFF EMIKO CLOSE, BEHIND MOPOL BASE, OGUNU ROAD, WARRI, DELTA STATE |
| 123 | DELTA | KIAGBODO | EDWIN CLARK UNIVERSITY, CBT CENTRE, KIAGBODO, BURUTU LGA, DELTA STATE |
| 124 | DELTA | EFFURUN | PACIA INTERNATIONAL SCHOOL, OPP. BLUE WATER HOTEL, NIGERCAT ROAD, OFF NPA EXPRESSWAY, EKPAN-EFFURUN, DELTA STATE |
| 125 | DELTA | ASABA | DELTA STATE LIBRARY CBT, OPP. FELIX IBRU SECRETARIAT, MARYAM BABAGINDA ROAD, ASABA, DELTA STATE |
| 126 | DELTA | KWALE | PRIME VOCATIONAL INSTITUTE KM 4, KWALE-ASABA EXPRESS WAY BESIDE LOCOCOON HOTELS, KWALE, DELTA STATE. |
| 127 | DELTA | UGHELLI | MICHEAL AND CECILIA IBRU UNIVERSITY (MCIU) CTR 4, IBRU VILLAGE, AGBARHA-OTOR, UGHELLI, DELTA STATE |
| 128 | DELTA | WARRI | SOLOGHA EKPEMUPOLO CBT, BEHIND OGULAGHA COMMUNITY SECRETARIAT, OGULAGHA, BURUTU LGA, DELTA STATE |
| 129 | DELTA | OGWASHI-UKU | DELTA STATE POLYTECHNIC, OGWASHI-UKU, CENTRE 2, ALONG AZAGBA ROAD, OGWASHI-UKU, DELTA STATE |
| 130 | DELTA | OZORO | DSUST CENTRE 2 , DELTA STATE UNIVERSITY OF SCIENCE & TECHNOLOGY, OZORO (FORMERLY, DSPZ CENTRE 2, DELTA STATE POLYTECHNIC, OZORO) ALONG UGHELLI/OZORO ROAD , DELTA STATE |
| 131 | DELTA | EFFURUN | OPEL RESOURCES CENTRE 2, NO. 6 SOLOMON OBORO CLOSE/CRESCENT OFF D.S.C ROAD BEFORE VITA FORM BUILDING, EFFEURN, DELTA STATE |
JAMB REGISTRATION CENTER IN EBONYI
| | | | |
| --- | --- | --- | --- |
| 132 | EBONYI | ABAKALIKI | COMPR. SCH. OF MGT. & TECH.(CSMT)CBT. CTR. ALONG WATCHMAN STREET, ABAKALIKI, EBONYI STATE |
| 133 | EBONYI | ABAKALIKI | JAMB STATE OFFICE, ABAKALIKI, EBONYI STATE (REGISTRATION ONLY) |
| 134 | EBONYI | IKWO | ALEX EKWUEME FEDERAL UNIVERSITY,CBT CTR. NDUFU-ALIKE IKWO, EBONYI STATE |
| 135 | EBONYI | ABAKALIKI | ANNUNCIATION ICT CTR., ST. PATRICK'S CATH. CHURCH, KPIRI- KPIRI, ABAKALIKI, EBONYI STATE |
| 136 | EBONYI | ABAKALIKI | EBONYI STATE UNIV. CBT CTR. 1 (PERM. SITE) ALONG ENUGU-ABAKALIKI EXPR-WAY, EZZAMGBO, EBONYI STATE |
| 137 | EBONYI | ABAKALIKI | EBONYI STATE UNIV. CBT CTR. 2 (PERM. SITE) ALONG ENUGU-ABAKALIKI EXPR-WAY, EZZAMGBO, EBONYI STATE |
| 138 | EBONYI | AFIKPO | EBUNWANA BUSINESS SERVICES LIMITED CBT CENTRE, EBUNWANA EDDA, AFIKPO SOUTH L.G.A , EBONYI STATE |
| 139 | EBONYI | ABAKALIKI | CODEFEST INTERNATIONAL ACADEMY CBT CENTRE. BLOCK A, SILION VALLEY COMPLEX, NEW GOVERNMENT SECRETARIAT, CENTENARY CITY, ABAKALIKI EBONYI STATE |
| 140 | EBONYI | AFIKPO | BERTHA BRIGHT KIDS ACADEMY 88 NDIBE BEACH ROAD , AFIKPO AFTER P NOBLE HOTEL, EBONYI STATE |
List of JAMB Approved CBT Registration Centers In EDO
| | | | |
| --- | --- | --- | --- |
| 141 | EDO | BENIN CITY | UNIVERSITY OF BENIN INTERNATIONAL ICT CENTRE, IYAYI COMPUTER BUILDING, UGBOWO, BENIN CITY, EDO STATE |
| 142 | EDO | EKPOMA | AMBROSE ALLI UNIVERSITY, E-LIBRARY HALLS A AND B, CENTRE 1, EKPOMA , EDO STATE. |
| 143 | EDO | BENIN CITY | JAMB ZONAL OFFICE BENIN, 23, IKPOKPAN RD. G.R.A, BENIN- CITY, EDO STATE (REGISTRATION ONLY) |
| 144 | EDO | BENIN CITY | COMPLETE COMPUTER AND TECHNOLOGY INSTITUTE 13, ADESUWA GRAMMAR SCHOOL RD, BESIDE STERLING BANK, OFF SAPELE RD, BENIN- CITY, EDO STATE |
| 145 | EDO | EKPOMA | MOUNT CARMEL SECONDARY SCHOOL, ALONG AMBROSE ALLI UNIVERSITY, PART TIME CAMPUS ROAD, EMAUDO, EKPOMA, EDO STATE |
| 146 | EDO | IGARRA | MJ & ESHOIZA ICT CENTRE, NO. 31 UPPER SECRETARIAT BY MTN MAST, UGBOGBO IGARRA, EDO STATE. |
| 147 | EDO | IGUEBEN | COLLEGE OF EDUCATION, ALONG UROMI- AGBOR EXPRESSWAY, IGUEBEN, EDO STATE |
| 148 | EDO | OKADA | IGBINEDION UNIVERSITY, OKADA, OVIA EAST LOCAL GOVT. OKADA TOWN, EDO STATE |
| 149 | EDO | AUCHI | ZINCOM COMPUTER, ALONG AGBOR ROAD, BESIDE JEHOVAH WITNESS JUNCTION, IKPOBA-OKHA LGA, BENIN CITY EDO STATE. |
| 150 | EDO | IYAHMO | EDO STATE UNIVERSITY, KM 7, AUCHI- ABUJA RD, UZAIRE, IYAHMO, EDO STATE |
| 151 | EDO | UROMI | HF-JEMAJO VENTURE, NO 1 JOSEPH EZEHI AV, EFANDION QTRS, OFF NEW AGBO RD, PREMISES OFF CHESS UROMI, EDO STATE. |
| 152 | EDO | BENIN CITY | WAEC INTERNATIONAL OFFICE CBT (CTR. 1), OGUNMWENTIN COMMUNITY, OFF UGBOR VILLAGE RD, BENIN CITY, EDO STATE |
| 153 | EDO | BENIN CITY | WAEC INTERNATIONAL OFFICE CBT (CTR. 2), OGUNMWENTIN COMMUNITY, OFF UGBOR VILLAGE RD, BENIN CITY, EDO STATE |
| 154 | EDO | BENIN CITY | UNITED KNOWLEDGE GLOBAL SERVICES, 1, OGIEFA STREET, OFF MISSION ROAD, BENIN- CITY, EDO STATE |
| 155 | EDO | EKPOMA | AMBROSE ALLI UNIVERSITY, E-LIBRARY HALLS C, CENTRE 2, EKPOMA, EDO STATE. |
| 156 | EDO | EKPOMA | AMBROSE ALLI UNIVERSITY, E-LIBRARY HALLS D, CENTRE 3, EKPOMA, EDO STATE. |
| 157 | EDO | OVAH | PENOTER TECHNOLOGY PETER UWADIAE HALL 2, ODUWARE UWADIAE RD, BESIDE OVAH PRIMARY SCHL, EGOR MARKET JUNCTION, OFF NIPOST INTS RD , BENIN CITY, EDO STATE |
| 158 | EDO | BENIN CITY | CELVIM BUSINESS VENTURES. 15, JBS ESTATE ROAD, OFF BOUNDARY ROAD, GRA, BENIN CITY |
| 159 | EDO | BENIN CITY | MAXNET TECHNOLOGY, 214 USELU LAGOS ROAD |
JAMB REGISTRATION CENTER IN EKITI
| | | | |
| --- | --- | --- | --- |
| 160 | EKITI | ADO-EKITI | EKITI STATE UNIVERSITY, ICT, CBT CENTRE, DIRECTORATE OF ICT, EKSU, ADO EKITI, EKITI STATE |
| 161 | EKITI | ADO-EKITI | THE FEDERAL POLYTECHNIC DIGITAL LIBRARY CBT CENTRE, KM 10, ADO/IKARE ROAD, P.M.B 5351, ADO EKITI, EKITI STATE |
| 162 | EKITI | ADO-EKITI | JAMB PROFESSIONAL TEST CENTRE (PTC), BESIDE NEW CBN OFFICE, NEW IYIN ROAD, ADO-EKITI, EKITI STATE |
| 163 | EKITI | ADO-EKITI | PHOENIX CBT, BLOCK A, PHOENIX BUILDING, OKURUMEH ESTATE, BESIDE UBE OFFICE, IKERE ROAD, ADO EKITI, EKITI STATE |
| 164 | EKITI | IGEDE-EKITI | MATER CHRISTI SCHOOL CBT CENTRE, MATER CHRISTI CATHOLIC GIRLS HIGH SCHOOL, OKE AGA HILL, IGEDE-EKITI, EKITI STATE |
| 165 | EKITI | IJERO-EKITI | COLLEGE OF HEALTH SCIENCE & TECHNOLOGY IJERO CBT CENTRE, EPE ROAD, IJERO-EKITI, EKITI STATE |
| 166 | EKITI | IKERE-EKITI | BAMIDELE OLUMILUA UNIVERSITY OF EDUCATION, SCIENCE AND TECHNOLOGY CBT CENTRE, IGBARA-ODO ROAD, IKERE EKITI, EKITI STATE |
| 167 | EKITI | OYE-EKITI | FEDERAL UNIVERSITY, OYE-EKITI ICT CENTRE, OYE EKITI, EKITI STATE |
| 168 | EKITI | ADO-EKITI | AFE BABALOLA ADO EKITI (ABUAD) CENTRE 1, KM 8.5, AFE BABALOLA WAY, IJAN ROAD, ADO-EKITI, EKITI STATE |
| 169 | EKITI | ADO-EKITI | AFE BABALOLA ADO EKITI (ABUAD) CENTRE 2, KM 8.5, AFE BABALOLA WAY, IJAN ROAD, ADO-EKITI, EKITI STATE |
| 170 | EKITI | IKERE | AJAYI IBUKUNOLU CBT CENTRE, KM.10, ADO IKERE EXPRESS WAY, OKE OPA, IKERE EKITI |
| 171 | EKITI | IJERO-EKITI | OKE-OSANYINTOLU CBT CENTRE, MADAM OLASEEKE AJIBULU ESTATE, ALAPO QUARTER, IDO_EKITI, EKITI STATE |
List of JAMB Approved CBT Registration Centers In ENUGU
| | | | |
| --- | --- | --- | --- |
| 172 | ENUGU | ENUGU | FORETRUST DIGITAL CONSULTING LTD, PLOT 93A, PREMIER LAYOUT, NEW ARTISAN, NEAR DUNAMIS CHURCH, ENUGU, ENUGU STATE |
| 173 | ENUGU | ENUGU | NATIONAL OPEN UNIVERSITY (NOUN), NO 87/89 NIKE LAKE ROAD TRANS EKULU, ENUGU, ENUGU STATE |
| 174 | ENUGU | ENUGU | JAMB ZONAL OFFICE, ENUGU, ENUGU STATE (REGISTRATION ONLY) |
| 175 | ENUGU | NSUKKA | UNIVERSITY OF NIGERIA NSUKKA, DIGITAL LIBRARY, NSUKKA, ENUGU STATE |
| 176 | ENUGU | NSUKKA | UNIVERSITY OF NIGERIA, MTN LIBRARY, NSUKKA, ENUGU STATE |
| 177 | ENUGU | NSUKKA | CENTRE FOR DISTANCE LEARNING, CBT CENTRE, OPP. GS BUILDING, UNIVERSITY OF NIGERIA (UNN), NSUKKA, ENUGU STATE |
| 178 | ENUGU | ENUGU | IMT DIGITAL LEARNING MANAGEMENT INSTITUTE CENTRE (IMT/DLMI) 1 CAMPUS 3, ENUGU, ENUGU STATE |
| 179 | ENUGU | ENUGU | IMT DIGITAL LEARNING MANAGEMENT INSTITUTE CENTRE (IMT/DLMI) 2, CAMPUS 3, ENUGU, ENUGU STATE |
| 180 | ENUGU | ENUGU | BISHOP OTUBELU JUNIORATE CBT CENTRE,3 EMELUGO DRIVE HILLVIEW, TRANS-EKULU, ENUGU, ENUGU STATE |
| 181 | ENUGU | OJI-RIVER | FEDERAL COOPERATIVE COLLEGE ICT-HUB, OJI-RIVER, ENUGU STATE |
| 182 | ENUGU | ENUGU | CENTRE FOR ADVANCED LIBRARY AND INFORMATION MANAGEMENT (CALIM) ICT, 12 ACHI STREET INDEPENDENCE LAYOUT BY AGRIC. BANK, OPP. GOOD SHEPHERD ANG. CHURCH, ENUGU, ENUGU STATE |
| 183 | ENUGU | ENUGU | ENUGU STATE COLLEGE OF EDUCATION (TECHNICAL), ABAKALIKI ROAD, ENUGU, ENUGU STATE |
| 184 | ENUGU | ENUGU | COAL CITY UNIVERSITY CBT CENTRE, ABAKALIKI ROAD, ENUGU, ENUGU STATE |
| 185 | ENUGU | NSUKKA | NNAMDI AZIKIWE CBT CENTRE, NNAMDI AZIKIWE LIBRARY, UNIVERSITY OF NIGERIA NSUKKA, ENUGU STATE |
| 186 | ENUGU | EMENE-ENUGU | MARIST POLYTECHNIC CBT CENTRE, ADORATION ROAD TRU REHAB ROAD, OYE-EMENE, ENUGU, ENUGU STATE |
| 187 | ENUGU | EMENE-ENUGU | ROCHAS FOUNDATTION COLLEGE, AJACENT ENUGU AIRPORT ROUND-ABOUT JUNCTION, EMENE ENUGU, ENUGU STATE |
JAMB REGISTRATION CENTER IN GOMBE
| | | | |
| --- | --- | --- | --- |
| 188 | GOMBE | DUKKU | DUKKU COMMUNITY SCIENCE SECONDARY SCHOOL, ALONG DUKKU-DARAZO ROAD, DUKKU, GOMBE STATE |
| 189 | GOMBE | GOMBE | COMMUNITY EDUCATION RESOURCE CENTRE, TASHAR DUKKU, BEHIND MUSABA HOSPITAL, GOMBE, GOMBE STATE |
| 190 | GOMBE | GOMBE | EL-LAWANTY ICT CENTER, COMMERCIAL AREA, NEAR DOMA HOSPITAL GOMBE |
| 191 | GOMBE | GOMBE | GOFCECON COMPUTER LAB., FEDERAL COLLEGE OF EDUCATION (TECH), GOMBE, GOMBE STATE |
| 192 | GOMBE | GOMBE | UNIVERSITY MAIN LIBRARY CBT CENTRE, GOMBE STATE UNIVERSITY, GOMBE, GOMBE STATE |
| 193 | GOMBE | GOMBE | JAMB STATE OFFICE, GOMBE, GOMBE STATE (REGISTRATION ONLY) |
| 194 | GOMBE | GOMBE | MUSASA WORLD WIDESOLUTIONS LTD., OPP. THE NIGERIAN POLICE FORCE M.T.D COMMAND, NEW G.R.A., GOMBE, GOMBE STATE |
| 195 | GOMBE | GOMBE | FEDERAL COLLEGE OF EDUCATION (TECHNICAL), GOMBE CBT EXAMS HALL, GOMBE STATE |
| 196 | GOMBE | KUMO | GOVERNMENT GIRLS SCIENCE SECONDARY SCHOOL KUMO (PTDF CBT), ALONG GOMBE-YOLA ROAD, KUMO, AKKO LGA, GOMBE STATE |
| 197 | GOMBE | KALTUNGO | MODEL SCHOOL CBT CENTRE, YOLA ROAD KALTUNGO, GOMBE STATE |
| 198 | GOMBE | BAJOGA | GOMBE STATE POLYTECHNIC CBT CENTER BAJOGA, GOMBE STATE |
| 199 | GOMBE | GOMBE | PEN RESOURCE ACADEMY ICT ,CBT ROBOTIC CENTER NEAR AMMA PEPPLE QTRS, LAFIYAWO GOMBE, GOMBE STATE |
| 200 | GOMBE | FILIYA | PERO CHONGE JAMB CBT CENTER, FILIYA COMMUNITY DAY SECONDARY SCHOOL, FILIYA, SHONGOM LGA, GOMBE STATE |
List of JAMB Approved CBT Registration Centers In IMO
| | | | |
| --- | --- | --- | --- |
| 201 | IMO | NEKEDE | FEDERAL POLYTECHNIC NEKEDE CBT CENTRE I, NEKEDE, IMO STATE |
| 202 | IMO | OKIGWE | MARIANNA COLLEGE OKIGWE, ENUGU/PORTHARCOURT EXP. WAY(OPP. FGC) OKIGWE, IMO STATE |
| 203 | IMO | OWERRI | LITTLE ROCK SCHOOL, 5 SCHOOL ROAD, WORKS LAYOUT, OPP. CRADLE HOTELS, OWERRI, IMO STATE |
| 204 | IMO | OWERRI | SWINTEC COMPUTER INSTITUTE, NO. 5/9 HOSPITAL /ORLU ROAD, OWERRI, IMO STATE |
| 205 | IMO | OWERRI | UNIQUE COMPUTER INSTITUTE, 2/3 HOSPITAL /ORLU ROAD BY WAREHOUSE BUS STOP, OWERRI, IMO STATE |
| 206 | IMO | OWERRI | JAMB STATE OFFICE, OWERRI, IMO STATE(REGISTRATION ONLY) |
| 207 | IMO | OWERRI | PRIME TIME COLLOSSEUM, PLOT 9-11 FEDERAL SECRETARIAT LAYOUT BESIDE FEDERAL HIGH COURT,NEW OWERRI, IMO STATE |
| 208 | IMO | ORLU | IMO STATE COLLEGE OF HEALTH SCIENCE AND TECHNOLOGY, AMAIGBO NWANGELE LGA, IMO STATE |
| 209 | IMO | OWERRI | SPRING TOWER COMPUTER INSTITUTE BESIDE /AMATA HEALTH CENTRE IKEDURU LGA, IMO STATE |
| 210 | IMO | ORLU | DIOVINIC INT'L ACADEMY, UMUODUDU, UMUEZE NKUME NJABA LGA, IMO STATE |
| 211 | IMO | OWERRI | SORONARA VENTURES NIGERIA LIMITED, FOUNDATION ROAD, UMUDAGU MBIERI, MBAITOLI, IMO STATE |
| 212 | IMO | NEKEDE | ICT CENTRE FEDERAL UNIVERSITY OF TECH, OWERRI, IMO STATE |
| 213 | IMO | MBAISE | MATER ECCLESIAE SEMINARY, NGURU, ABOH MBAISE, IMO STATE, CLOSE TO HOLY TRINITY CATHOLIC PARISH, OBIBI, NGURU, ABOH MBAISE, IMO STATE |
| 214 | IMO | ORLU | ORU EAST CBT CENTRE(FOE ICT) ORUF EAST LGA HEADQUARTERS, OMUMA, IMO STATE |
List of JAMB Approved CBT Registration Centers In JIGAWA
| | | | |
| --- | --- | --- | --- |
| 215 | JIGAWA | DUTSE | JAMB PROFESSIONAL TEST CENTRE (PTC), JAMB OFFICE, DUTSE ,PLOT 269/270, MECHANICS VILLAGE, BYE-PASS, DUTSE, JIAGAWA STATE |
| 216 | JIGAWA | DUTSE | B.H.T INTERSYSTEM L.T.D, DUTSE BYE PASS OPPOSITE AWAJIL FILING STATION, DUTSE, JIGAWA STATE |
| 217 | JIGAWA | DUTSE | FEDERAL UNIVERSITY E-LEARNING CENTRE, DUTSE BE PASS, DUTSE, JIGAWA STATE |
| 218 | JIGAWA | HADEJIA | BINYAMINU USMAN POLYTECHNIC, ALONG MALAM MADORI ROAD, HADEJIA, JIGAWA STATE |
| 219 | JIGAWA | KAZAURE | HUSSAINI ADAMU FEDERAL POLTECHNIC, ALONG KANO-DAURA ROAD, KAZAURE, JIGAWA STATE |
| 220 | JIGAWA | GUMEL | JIGAWA STATE COLLEGE OF EDUCATION GUMEL, KANO ROAD, JIGAWA STATE. |
| 221 | JIGAWA | KAFIN HAUSA | SULE LAMIDO UNIVERSITY, KM2 JAHUN-KANO ROAD, KAFIN HAUSA, JIGAWA STATE |
| 222 | JIGAWA | DUTSE | FEDERAL UNIVERSITY ICT/CBT CENTER, DUTSE BE PASS, DUTSE, JIGAWA STATE |
| 223 | JIGAWA | DUTSE | AL-HIKMAH CBT CENTRE NO. 5 MAIDUGURI ROAD, OPP. AUDU MANAGER FILLING STATION, BIRNIN KUDU, JIGAWA STATE. |
| 224 | JIGAWA | GUMEL | JICORAS CBT CENTRE, PMB 2020,YARKIRYA ROAD, BABURA, JIGAWA |
| 225 | JIGAWA | DUTSE | FUD E-LEARNING CENTRE II, FEDERAL UNIVERSITY DUTSE, IBRAHIM ALIYU BYE-PASS,DUTSE,JIGAWA STATE. |
| 226 | JIGAWA | HADEJIA | FUTUREMAP FOUNDATION, ALONG NGURU ROAD OPPOSITE THREE BROTHERS RICE MILL COMPANY, HADEJIA, JIGAWA STATE. |
| 227 | JIGAWA | GUMEL | JIGAWA STATE COLLEGE OF EDUCATION GUMEL, CBT CENTRE2, ALONG KANO ROAD, JIGAWA STATE. |
JAMB REGISTRATION CENTER IN KADUNA
| | | | |
| --- | --- | --- | --- |
| 228 | KADUNA | KADUNA | ALEKWE NIGERIA LTD, SARDAUNA MEMORIAL COLLEGE, UNGUWAN DOSA, KADUNA STATE. |
| 229 | KADUNA | KADUNA | DANBO INTERNATIONAL SCHOOLS, 28 KUBANI CRESCENT, BARNAWA, KADUNA BY DANBO BRIDGE, KADUNA STATE. |
| 230 | KADUNA | KADUNA | JAMB ZONAL OFFICE KADUNA, KADUNA STATE (REGISTRATION ONLY) |
| 231 | KADUNA | KADUNA | KADUNA STATE UNIVERSITY CBT CENTRE TAFAWA BALEWA WAY, U/RIMI, KADUNA, KADUNA STATE. |
| 232 | KADUNA | KADUNA | QUEEN AMINA COLLEGE, OPP. UNITY BANK, KAKURI, KADUNA STATE. |
| 233 | KADUNA | KAFANCHAN | FANTSUAM FOUNDATION CBT, NO 1 FANTSUAM CLOSE, BAYAN LOCO, KAFANCHAN, KADUNA STATE. |
| 234 | KADUNA | ZARIA | AHMADU BELLO UNIVERSITY, DISTANCE LEARNING CENTRE, SAMARU, ZARIA, KADUNA STATE |
| 235 | KADUNA | ZARIA | GOLDEN HEIGHT COMPREHENSIVE SCHOOL, NO 1 JUSHIN WAJE, SABON GARI, ZARIA, KADUNA STATE |
| 236 | KADUNA | ZARIA | NUHU BAMALLI POLYTECHNIC, MAIN CAMPUS, ALONG ZARIA-KADUNA EXPRESS WAY, ZARIA, KADUNA STATE |
| 237 | KADUNA | ZARIA | ZARIA INSTITUTE OF INFORMATION TECHNOLOGY CENTRE 1, NO 19 KOFAN DOKA, WUSASA ROAD, BEHIND MUSLIM EID PRAYING GROUND, ZARIA, KADUNA STATE. |
| 238 | KADUNA | KADUNA | SKOLAK RESOURCES LTD, BZ 3 SARDAUNA CRESCENT OFF JUNCTION ROAD, KADUNA, KADUNA STATE |
| 239 | KADUNA | KADUNA | AMAL COMPUTERS AND TEST CENTRE NIGERIA LTD, 30 MATAZU ROAD, OPPOSITE AHMADIYYA JUMMAT MOSQUE, TUDUN WADA, KADUNA STATE. |
| 240 | KADUNA | KADUNA | DIVINE PROGRESS SCHOOL, 47 MAYERE ROAD, NARAYI HIGH – COST, OPPOSITE EDI-JEN FILLING STATION, KADUNA STATE. |
| 241 | KADUNA | ZARIA | AWESONS ACADEMY, ZARIA, ALONG W.T.C ROAD BEFORE WATER BOARD, ANGUWAN KAYA, ZARIA, KADUNA STATE |
| 242 | KADUNA | KADUNA | BEIJING INTERNATIONAL SCHOOL, NO 18 SALIM CRESCENT, KAWO NEW EXTENSION, KADUNA STATE. |
| 243 | KADUNA | ZARIA | ZARIA CONSULTANCY LIMITED, FEDERAL COLLEGE OF EDUCATION, ZARIA, KADUNA STATE |
| 244 | KADUNA | ZARIA | SIF CBT & ICT PROFESSIONAL TRAINING, NO 20 WARRI STREET, SABON GARI, ZARIA, KADUNA STATE. |
| 245 | KADUNA | KADUNA | MARYAM MODEL SCHOOL CBT, 7/10 FUNTUA ROAD, HAYIN MALLAM BELLO, RIGASA, KADUNA STATE. |
| 246 | KADUNA | ZARIA | ZARIA EDUCATION DEVELOPMENT ASSOCIATION (ZEDA) CBT CENTRE, GASKIYA ROAD OPPOSITE BAREWA COLLEGE, ZARIA, KADUNA STATE. |
| 247 | KADUNA | KAFANCHAN | ST. THADDEUS SCIENCE ACADEMY CBT CENTRE 1, MADAKIYA, KADUNA STATE |
| 248 | KADUNA | KADUNA | ATEKO DIGITAL TECHNOLOGY, L7 ALIYU MAKAMA ROAD BY NARAYI JUNCTION BARNAWA, KADUNA STATE. |
| 249 | KADUNA | KADUNA | DEFENCE INDUSTRIES CORPORATION OF NIGERIA (DICON), TRAINING SCHOOL CBT CENTRE, DICON ROAD BY MONDAY MARKET, KAKURI, KADUNA STATE. |
| 250 | KADUNA | ZARIA | MAINLAND COLLEGE OF EDUCATION, HEALTH SCIENCES AND TECHNOLOGY, NO 14B KOFAR KIBO BY BAREWA JUNCTION, ZARIA, KADUNA STATE |
| 251 | KADUNA | KADUNA | OPEN DISTANCE & FLEXIBLE E-LEARNING CENTRE, KADUNA POLYTECHNIC, MAIN CAMPUS, TUDUN WADA, KADUNA STATE. |
| 252 | KADUNA | ZARIA | NIGERIAN MILITARY SCHOOL CHINDIT CANTONMENT, ZARIA, KADUNA STATE. |
| 253 | KADUNA | KADUNA | CHRIST AMBASSADORS INTERNATIONAL COLLEGE, NO 29 JUJI ROAD, THE STREET OPPOSITE STANBIC IBTC BANK, BEFORE THE RAIL CROSSING, SABON TASHA, KADUNA STATE |
| 254 | KADUNA | SOBA | YELWA ICT CENTRE, SOBA LOCAL GOVERNMENT, ALONG AZRIA – PAMBEGUA EXPRESS WAY, YELWA MAIBENE, KADUNA STATE |
| 255 | KADUNA | KADUNA | KADWEL INTERNATIONAL SCHOOL,16/17 UGANDA ROAD. BARNAWA, KADUNA SOUTH, KADUNA STATE |
| 256 | KADUNA | ZARIA | ISLAMIC TRUST OF NIGERIA MODEL SCHOOLS ,ZANGON SHANU ZARIA. K. M 8.ZARIA-SOKOTO ROAD, ZANGON SHANU ZARIA. . |
| 257 | KADUNA | SOBA | KUBAU LOCAL GOVERNMENT CBT CENTRE, GSS ANCHAU TAKALAFIA. |
List of JAMB Approved CBT Registration Centers In KANO
| | | | |
| --- | --- | --- | --- |
| 258 | KANO | DAMBATTA | AUDO BAKO COLLGE OF AGRICULTURE, DAMBATTA, DAURA ROAD. KANO, KANO STATE |
| 259 | KANO | KANO | BAYERO UNIVERSITY, OLD SITE, IGR LEARNING CENTRE, KANO, KANO STATE |
| 260 | KANO | KANO | BAYERO UNIVERSITY, NEW SITE, E-LEARNING CENTRE, GWARZO ROAD, KANO, KANO STATE |
| 261 | KANO | KANO | BMG INSTITUTE OF INFORMATION TECHNOLOGY, N0. 13 BATAIYA HOUSE GYADI-GYADI ALONG ZARIA ROAD, KANO, KANO STATE |
| 262 | KANO | KANO | FEDERAL COLLEGE OF EDUCATION, KABUGA KOFAR FAMFO, KANO, KANO STATE |
| 263 | KANO | KANO | JAMB PROFESSIONAL TEST CENTRE (PTC), FARAWA. BESIDE NATIONAL CENTRE FOR MASS LITERACY ADULT AND NON FORMAL EDUCATION, FARAWA KANO |
| 264 | KANO | KANO | JAMB ZONAL OFFICE, KANO, KANO STATE (REGISTRATION ONLY) |
| 265 | KANO | KANO | KANO POLY, SCHOOL OF TECHNOLOGY MATAN FADA ROAD, KANO, KANO STATE |
| 266 | KANO | KANO | THE LIGHT COLLEGE, NO. 2 PANSHEKARA, OPP, POLICE COLLEGE PANSHEKARA KANO STATE |
| 267 | KANO | WUDIL | MAIN LIBRARY KANO UNIVERSITY OF SCIENCE AND TECHNOLOGY, WUDIL, KANO STATE |
| 268 | KANO | WUDIL | NCC CBT CENTRE, KANO UNIVERSITY OF SCIENCE AND TECHNOLOGY, WUDIL, KANO STATE |
| 269 | KANO | KANO | PRESTIGIOUS ICT INVESTMENT LTD, SANI KABARA STREET, SHEKA, OFF ZOO ROAD,KANO, KANO STATE |
| 270 | KANO | KANO | SKYLINE UNIVERSITY NIGERIA. NO 2 ZARIA ROAD KANO (FORMER BANK OF THE NORTH), KANO. KANO STATE |
| 271 | KANO | KANO | ALSAUDA GLOBAL INVESTMENT LTD, JUMA'AT MOSQUE KAWAJI BY IDI BUKAR ROAD, NASSARAWA, KANO, KANO STATE |
| 272 | KANO | KANO | CYBERTRON LIMITED, NO 218 TITIN ASIBITIN AMINU KANO, TARAUNI LGA, KANO, KANO STATE |
| 273 | KANO | KANO | BUTALE INFORMATION TECHNOLOGY (BIT) ALONG GWARZO ROAD AFTER NYSC SECRETERIAT, KANO, KANO STATE |
| 274 | KANO | KANO | AIA INSTITUTE OF COMPUTER AND BASIC STUDIES, NO. 4 GAIDA LINE SERVICE PANSHEKARA ROAD KANO, KANO STATE |
| 275 | KANO | KANO | HUDAIBIYYA CBT CENTER PLOT 1 AND 2 AJACENT TO HISBA BOARD SHARADA PHASE I , KANO, KANO STATE |
| 276 | KANO | KANO | IKO SAI ALLAH ICT NETWORK GLOBAL NO 413A RIJIALEMO YANKATAKO OPPOSITE, AZMAN FILLING STATION, KANO, KANO STATE |
| 277 | KANO | KANO | TREZTECH, PLOT 10, GWARZO ROAD OPPOSITE B.U.K NEW CAMPUS, KANO, KANO STATE |
| 278 | KANO | WUDIL | WUDIL COMPUTER INFORMATION TECHNOLOGY. NO2, ALIYU DANDARMAN ROAD BESIDE UNITY BANK WUDIL, KANO STATE |
| 279 | KANO | KANO | ADVANTURE ASSOCIATE (AA). BEHIND SHESHE SUPERMARKET, OFF HADEJIA ROAD, KANO, KANO STATE |
| 280 | KANO | KANO | MURTALA MUHAMMAD LIBRARY, AHMADU BELLO WAY, NASSARAWA GRA, NASSARAWA, KANO, KANO STATE |
| 281 | KANO | KANO | HAMDALA SCIENCE COLLEGE, LAYIN HAMDALA MEDILE, OFF ZOO ROAD, SABUWAR GANDU, KANO, KANO STATE |
| 282 | KANO | KANO | KANO COOPERATIVE CBT CENTRE, NO. 1 ZARIA OPP KANO LINE BY AZMAN OFFICE, KANO, KANO STATE |
| 283 | KANO | KANO | EMIRATE COLLEGE OF HEALTH SCIENCES & TECH INTERPRENUERSHIP CENTRE LAB 1. TUDUN YOLA ESTATE, KABUGA SATELITE TOWN, OFF GWARZO ROAD KANO STATE |
| 284 | KANO | KANO | EMIRATE COLLEGE OF HEALTH SCIENCES & TECH INTERPRENUERSHIP CENTRE LAB II. TUDUN YOLA ESTATE, KABUGA SATELITE TOWN, OFF GWARZO ROAD KANO, KANO STATE |
| 285 | KANO | KANO | AUA TECHNOLOGIES LTD. NO. 505 KOFAR DAWANAU ADJACENT TO DASHERE PETROLEUM, NORTHWEST UNI. ROAD, KANO, KANO STATE |
| 286 | KANO | KANO | FIRST QUARTILE PROFESSIONALS CBT CENTRE, NO. 03, YAR-AKWA 'B' NA'INBAWA, NEAR YAN-KATAKO MARKET, ALONG KARKASARA ROAD OFF ZARIA ROAD, KANO, KANO STATE |
| 287 | KANO | KANO | RDT INTERNATIONAL LTD, PLOT 1246, RIJIYAR ZAKI, KANO, KANO STATE |
| 288 | KANO | KANO | RABIU MUSA KWANKWASO COLLEGE OF ADVANCED & REMEDIAL STUDIES(CARS), TUDUN WADA DANKADAI LGA, KANO STATE |
| 289 | KANO | DAMBATTA | UMMY GENERAL CONTRACTORS (UGC) CBT CENTER DANBATTA, ADJACENT TO FIRE SERVICE OFFICE DANBATTA, DAURA ROAD, KANO STATE |
| 290 | KANO | KANO | MUSTIBRAH COLLEGE OF INFORMATION TECHNOLOGY AND MANAGEMENT STUDIES, NO. 97 YAN KATAKO, YARAKWA QTRS TARAUNI LGA, KANO STATE |
JAMB REGISTRATION CENTER IN KATSINA
| | | | |
| --- | --- | --- | --- |
| 291 | KATSINA | DAURA | DR YUSUFU BALA USMAN COLLEGE, along Dunu-Kano road DAURA, KATSINA STATE |
| 292 | KATSINA | KATSINA | ALQALAM UNIVERSITY MUHAMMAD SANUSI II ICT CENTRE TAFAWA BALEWA WAY ALONG DUTSINMA ROAD KATSINA, KATSINA STATE |
| 293 | KATSINA | KATSINA | UMARU MUSA YARADUA UNIVERSITY, FACULTY OF NATURAL & APPLIED SCIENCES, DUTSINMA ROAD, KATSINA, KATSINA STATE |
| 294 | KATSINA | KATSINA | UMARU MUSA YARADUA UNIVERSITY, COMPUTER LAB 1 CENTRE, DUTSINMA ROAD, KATSINA, KATSINA STATE |
| 295 | KATSINA | DUTSINMA | CBT CENTRE, ZONAL EDUCATION QUALITY ASSURANCE, DUTSINMA, KATSINA STATE |
| 296 | KATSINA | MALUMFASHI | CBT CENTRE ZONAL EDUCATION QUALITY ASSURANCE, MALUMFASHI, KATSINA STATE |
| 297 | KATSINA | DUTSINMA | ISAH KAITA COLLEGE OF EDUCATION, DUTSIN-MA, KATSINA STATE |
| 298 | KATSINA | KATSINA | ICT CENTRE, HASSAN USMAN KATSINA POLYTECHNIC, KM 8, TAFAWA BALEWA WAY, KATSINA, KATSINA STATE |
| 299 | KATSINA | DUTSINMA | FEDERAL UNIVERSITY DUTSINMA, CBT 1, TAKE OFF CAMPUS,NO 1 KANKARA-KATSINA EXPRESS, DUTSINMA. KATSINA STATE |
| 300 | KATSINA | DAURA | FGC DAURA E-LIBRARY,CBT CENTRE DAURA, KATSINA STATE |
| 301 | KATSINA | FUNTUA | ZEE ALPHA INTERNATIONAL SCHOOL,BEHIND V.I.P LODGE G.R.A FUNTUA, KATSINA STATE |
| 302 | KATSINA | DUTSINMA | FEDERAL UNIVERSITY DUTSINMA, CBT 2, TAKE OFF CAMPUS,NO 1 KANKARA-KATSINA EXPRESS, DUTSINMA. KATSINA STATE |
| 303 | KATSINA | DUTSINMA | JAMB PTC MEGA CENTRE 1, (JAMB PTC WING)JAMB OFFICE KATSINA DUTSINMA ROAD BY AL-QALAM ROUND ABOUT, KATSINA STATE. |
| 304 | KATSINA | FUNTUA | MUGAJ INFORMATION AND COMMUNICATION,NO 3 ADJACENT SHEMA FILLING STATION, KURAMI BYPASS, BAKORI L.G.A KATSINA STATE |
List of JAMB Approved CBT Registration Centers In KEBBI
| | | | |
| --- | --- | --- | --- |
| 305 | KEBBI | ALIERO | KEBBI STATE UNIVERSITY OF SCIENCE AND TECHNOLOGY,ALIERO CBT CENTRE, ALONG JEGA-SOKOTO ROAD ALIERO, KEBBI STATE. |
| 306 | KEBBI | BIRNIN KEBBI | JAMB STATE OFFICE, BIRNIN KEBBI, KEBBI STATE (REGISTRATION ONLY) |
| 307 | KEBBI | BIRNIN KEBBI | WAZIRI UMARU FEDERAL POLYTECHNIC, CIT CENTRE, GESSE CAMPUS, BIRNIN KEBBI, KEBBI STATE |
| 308 | KEBBI | ZURU | ZEDS ICT CENTER, OLD WORKS OFFICE, ZURU, KEBBI STATE |
| 309 | KEBBI | BIRNIN KEBBI | DIT COMPUTER SERVICES, ARGUNGU ROAD NEAR RIMA ROUDA BOUT, BIRNINKEBBI, KEBBI STATE. |
| 310 | KEBBI | JEGA | COMMAND SCIENCE SECONDARY SCHOOL (BOYS) JEGA ICT CENTRE BIRNINKEBBI ROAD,OPPOSITE AISHA BUHARI SPECIALIST HOSPITAL JEGA,KEBBI STATE |
| 311 | KEBBI | ZURU | KEBNA ICT CENTRE, RIKOTO AREA, SOKOTO ROAD, ZURU, KEBBI STATE. |
| 312 | KEBBI | BIRNIN KEBBI | JAMB PROFESSIONAL TEST CENTRE (PTC), ALONG NEW SECRETARIAT COMPLEX ROAD, GWADANGAJI, BIRNIN-KEBBI, KEBBI STATE. |
| 313 | KEBBI | ARGUNGU | ADAMU AUGIE COLLEGE OF EDUCATION ICT CENTRE, OPPOSITE TRIPLE LECTURE THEARTER, PERMANENT SITE, ARGUNGU, KEBBI STATE. |
| 314 | KEBBI | BIRNIN KEBBI | MACCATT CBT CENTRE, BESIDE EMIR OF GWANDU'S PALACE, UMAR GWNDU ROAD, BIRNIN KEBBI, KEBBI STATE |
| 315 | KEBBI | ALIERO | KEBBI STATE UNIVERSITY OF SCIENCE AND TECHNOLOGY ALIERO UNIVERSITY LIBRARY CBT CENTRE, ALONG JEGA SOKOTO ROAD, ALIERO, KEBBI STATE |
List of JAMB Approved CBT Registration Centers In KOGI
| | | | |
| --- | --- | --- | --- |
| 316 | KOGI | ANKPA | KOGI STATE COLLEGE OF EDUCATION, ALONG ENUGU ROAD, ANKPA, KOGI STATE |
| 317 | KOGI | KABBA | AAGES GLOBAL LINKS CBT CENTRE, ST. AUGUSTINES COLLEGE, KABBA, KOGI STATE |
| 318 | KOGI | LOKOJA | YABMA INTERNATIONAL SCIENCE ACADEMY, HON. YAKUBU YUNUSA AVENUE, 500 UNITS, GANAJA ROAD, LOKOJA, KOGI STATE |
| 319 | KOGI | LOKOJA | JAMB STATE OFFICE, GP 574, SALAU ATIMA HOUSING ESTATE, LOKONGOMA, PHASE 2, LOKOJA, KOGI STATE. (REGISTRATION ONLY) |
| 320 | KOGI | OKENE | S&J EL-LATEEF AND HASSY COMPUTER INSTITUTE, IHIMA COMMUNITY SCIENCE SECONDARY SCHOOL (ICSS), IHIMA, KOGI STATE |
| 321 | KOGI | IDAH | SEAGATE COMMUNICATION AND NETWORKING, ALONG FEDERAL POLYTECHNIC ROAD, BY MODA MOTEL, IDAH, KOGI STATE |
| 322 | KOGI | ANYIGBA | MULTIPURPOSE ICT/E-EXAM CENTRE, KOGI STATE UNIVERSITY, ANYIGBA, KOGI STATE |
| 323 | KOGI | OKENE | FEDERAL COLLEGE OF EDUCATION (FCE) OKENE CENTRE ONE (1) CBT EXAMINATION CENTRE COLLEGE E-LIBRARY COMPLEX, OKENE, KOGI STATE |
| 324 | KOGI | LOKOJA | HARMONY SECONDARY SCHOOL CBT CENTRE, LOKONGOMA PHASE 2, LOKOJA, KOGI STATE |
| 325 | KOGI | DEKINA | ISA MEMORIAL ISLAMIC ACADEMY DIGITAL CENTRE, KM 1, ALONG ODU ANANA ROAD, OFF DEKINA-ANYIGBA EXPRESS WAY, AJIYOLO OJAJI, DEKINA, KOGI STATE |
| 326 | KOGI | KABBA | H.E HAJIYA RASHIDA YAHAYA BELLO CBT CENTER;KOGI STATE COLLEGE OF EDUCATION (TECHNICAL) KABBA, KOGI STATE |
| 327 | KOGI | ANYIGBA | NANA COLLEGE OF HEALTH SCIENCE AND TECHNOLOGY CBT CENTER; OKEGBI RD, BEHIND KOGI STATE UNIVERSITY ANYIGBA, KOGI STATE |
| 328 | KOGI | OKENE | FEDERAL COLLEGE OF EDUCATION (FCE) OKENE CENTRE TWO (2) CBT EXAMINATION CENTRE COLLEGE MIS COMPLEX, OKENE,. KOGI STATE |
| 329 | KOGI | OKENE | SUFIYAN INTERNATIONAL SCHOOLS CBT CENTRE, MUHAMMED SUFIYAN MUHAMMED STREET, OPP SUFIYAN CENTRAL MOSQUE CHECK POINT, OKENE KOGI STATE |
| 330 | KOGI | LOKOJA | JAMB PTC CENTRE 2, (NCC PTC WING), HASSAN USMAN KATSINA ROAD, ZONE 8, BESIDE WAEC LOKOJA, KOGI STATE |
| 331 | KOGI | LOKOJA | JAMB PTC CENTRE 1, (JAMB PTC WING), HASSAN USMAN KATSINA ROAD, ZONE 8, BESIDE WAEC LOKOJA, KOGI STATE |
| 332 | KOGI | LOKOJA | ALBARKA MULTIPURPOSE CO-OPERATIVE THRIFT AND CREDITS UNION, N0 1 STATE SECRETARIAT ROAD, OFF HASSAN KATSINA ROAD, LOKOJA |
JAMB REGISTRATION CENTER IN KWARA
| | | | |
| --- | --- | --- | --- |
| 333 | KWARA | ILORIN | EFFECTIVE INTERNATIONAL COLLEGE, UNILORIN PERMANENT SITE ROAD, TANKE ILORIN, KWARA STATE |
| 334 | KWARA | ILORIN | JAMB PROFESSIONAL TEST CENTRE (PTC), OYUN BRIDGE, OLD JEBBA ROAD, ILORIN, KWARA STATE |
| 335 | KWARA | ILORIN | KWARA COLLEGE OF EDUCATION, ILORIN, KWARA STATE |
| 336 | KWARA | ILORIN | PARROT CYBERWORLD LIMITED, EMMANUEL BAPTIST COLLEGE BESIDE LEAD HOSTEL UNILORIN ROAD TANKE ILORIN, KWARA STATE |
| 337 | KWARA | ILORIN | SOCRATES COLLEGE (CBT CENTRE), AROMARADU, ADETA ILORIN ,KWARA STATE |
| 338 | KWARA | ILORIN | UNIVERSITY OF ILORIN ETC CENTRE, CENTRE 2, ILORIN KWARA STATE |
| 339 | KWARA | ILORIN | UNIVERSITY OF ILORIN CBT CENTRE, CENTRE 1, ILORIN KWARA STATE |
| 340 | KWARA | ILORIN | UNIVERSITY OF ILORIN CBT CENTRE, CENTRE 4, ILORIN KWARA STATE |
| 341 | KWARA | OFFA | ICT CENTRE, FEDERAL POLYTECHNIC, OFFA, ALONG OJOKU ROAD, OFFA, KWARA STATE |
| 342 | KWARA | ILORIN | DAMDAV CBT CENTRE 30, WESTERN RESERVOIR ROAD OLORUNSOGO ILORIN, KWARA STATE |
| 343 | KWARA | ILORIN | METRO CBT CENTRE, BEHIND YASCO TECHNICAL, ADJACENT NNPC FILLING STATION, LUCKY PAT ROAD, AIYETORO AREA, GERIALIMI ILORIN, KWARA STATE |
| 344 | KWARA | ILORIN | UNIVERSITY OF ILORIN CBT CENTRE, CENTRE 5, ILORIN KWARA STATE |
| 345 | KWARA | OFFA | EULERS CONSULTING COLLEGE OF HEALTH TECH OJOKU ROAD OFFA, KWARA STATE |
| 346 | KWARA | MALETE | CBT CENTRE KWARA STATE UNIVERSITY, MALETE, KWARA STATE |
| 347 | KWARA | ILORIN | KINGSTEP CBT CENTRE, OLADOKUN – KINGSTEP INTERNATIONAL GROUP OF SCHOOLS, ITA – ELEPA, OFF ASA DAM ROAD, ILORIN, KWARA STATE |
| 348 | KWARA | ILORIN | MATRIX CBT CENTRE, BESIDE "F" DIVISION POLICE STATION, TANKE ORI-OKE STREET, ILORIN, KWARA STATE |
| 349 | KWARA | ILORIN | NANA AISHAT MEMORIAL COLLEGE OF EDUCATION, ALONG SOBI SPECIALIST HOSPITAL ROAD, ALAGBADO, ILORIN, KWARA STATE |
| 350 | KWARA | OKO | THOMAS ADEWUMI UNIVERSITY, UNIVERSITY DRIVE OFF OKO-IDOFIN ROAD OKO, KWARA STATE |
| 351 | KWARA | ILORIN | KWARA STATE POLYTECHNIC CBT CENTRE, OPP KWARAPOLY BLOCK INDUSTRY, ALONG I.A.S COMPLEX ILORIN, KWARA STATE |
| 352 | KWARA | ILORIN | IMAM HAMZAT COLLEGE OF EDUCATION CBT CENTRE, OKO-OLOWO AREA, ALONG NEW JEBBA EXPRESS WAY, ILORIN, KWARA STATE |
| 353 | KWARA | ILORIN | NIGERIA ARMY COLLEGE OF EDUCATION, SOBI BARRACKS, ILORIN, KWARA STATE |
| 354 | KWARA | ILORIN | AL-HIKMAH UNIVERSITY CBT CENTRE, ADETA ROAD, ADEWOLE HOSING ESTATE, ILORIN, KWARA STAT |
List of JAMB Approved CBT Registration Centers In LAGOS
| | | | |
| --- | --- | --- | --- |
| 355 | LAGOS | OKO-OBA | LUFEM SYSTEMS LTD 31, DORCAS MOROLAHUN STR, EGBATEDO EMMANUEL B/STOP, OFF OLD ABEOKUTA ROAD, OKO OBA AGEGE, LAGOS STATE |
| 356 | LAGOS | SANGOTEDO | ISLAND COMPUTER COLLEGE LIMITED, CRANE SCHOOL, 6 ADENUGA CLOSE, OPPOSITE SAFEWAY B/STOP, LEKKI EXPRESSWAY, SANGOTEDO, LAGOS STATE |
| 357 | LAGOS | AYOBO | ENEFEM GROUP OF SCHOOLS, 9/11 PHILIPS OMOARELAGIE STREET (FORMERLY ADEBAYO STR.) OFF AMULE OLAYEMI ROAD, MAKINDE B/STOP, IDERA ESTATE, ASIPA, AYOBO, LAGOS STATE |
| 358 | LAGOS | AYOBO | NEW OCEAN COMPRE. HIGH SCHOOL CBT CENTRE. 70/72 ALAJA ROAD MEGIDA B/STOP LAGOS STATE |
| 359 | LAGOS | TOGA | MASSINO COMPUTER LTD. 35, ASSEMBLY HALL ROAD, LIMCA BUS STOP, TOGA, BADAGRY |
| 360 | LAGOS | EGBE | BAFUTO INSTITUTE OF MGT & INFORMATION TECH. 62, IKOTUN ISOLO ROAD ILE-IWE B/STOP EGBE, LAGOS STATE |
| 361 | LAGOS | EGBE | RISING SUN HIGH SCHOOL . 16, OKONJI STREET CELE B/STOP AGODO -EGBE, LAGOS STATE |
| 362 | LAGOS | IJANIKIN | CAREER BUILDERS ACADEMY,2, CAREER AVENUE,CELE B/STOP, IJANIKIN, LAGOS STATE |
| 363 | LAGOS | AGIDINGBI | WEST AFRICAN EXAMINATION COUNCIL, INTERNATIONAL OFFICE, PLOT 6 LATEEF JAKANDE ROAD, OPP CHICKEN REPUBLIC, AGIDINGBI, LAGOS STATE |
| 364 | LAGOS | IKORODU | BALAD PRIVATE SCHOOLS, CBT CTR 1, 1 OBAFEMI STRT, OFF ISAWO ROAD NEAR ORIOKUTA JUNCTION, OPP FCMB, AGRIC IKORODU, LAGOS STATE |
| 365 | LAGOS | IKORODU | DIFAS COLLEGE CBT CENTRE, AKEEM ADEWUNMI SRT.BEHIND FARM SETTLEMENT PRIM.SCHOOL, ODOGUNYAN, IKORODU, LAGOS STATE |
| 366 | LAGOS | IKORODU | ZEEKAY SCHOOLS CBT, 2, HOME OF GRACE ESTATE, AGBEDE, AGRIC., IKORODU , LAGOS STATE |
| 367 | LAGOS | IKORODU | WESTHILLS HIGH SCHOOL, 1, PLEASANT STRT. ORIOKUTA VIA OJOKORO VILLAGE, IKORODU, LAGOS STATE |
| 368 | LAGOS | GARKI | JAMB ZONAL OFFICE, 11 OJORA ROAD, IKOYI, LAGOS STATE (REGISTRATION ONLY) |
| 369 | LAGOS | ILUPEJU | ETC NIGERIA LIMITED CENTRE 1, 229 JKK HOUSE IKORODU ROAD, ILUPEJU BY TOWN PLANNING BESIDE MUTUAL BENEFIT, LAGOS, LAGOS STATE |
| 370 | LAGOS | ILUPEJU | ETC NIGERIA LIMITED CENTRE 2, 229 JKK HOUSE IKORODU ROAD, ILUPEJU BY TOWN PLANNING BESIDE MUTUAL BENEFIT, LAGOS STATE |
| 371 | LAGOS | YABA | YABA COLLEGE OF TECHNOLOGY CENTRE 1, YABA, LAGOS STATE |
| 372 | LAGOS | OJO | CONNECTION COMPUTER TRAINING INSTITUTE, 1 CONNECTION STREET, AT CELE NICA B/STOP, OPP BOVAG FILLING STATION, OKOKO OJO, LAGOS STATE |
| 373 | LAGOS | IJAYE | MALICOMP COMPUTERS, 17 ADESOLA AKANDE, OFF OYEMEKUN STREET, IFAKO IJAIYE, LAGOS STATE |
| 374 | LAGOS | AGEGE | LAGOOZ SCHOOLS , 21 SOMOYE STREET, OMOTOYE ESTATE, MULERO B/STOP, NEAR NYSC CAMP, IYANA IPAJA, ORILE AGEGE, LAGOS STATE |
| 375 | LAGOS | IKORODU | THE 11-30 HALL EBUTE IGBOGBO ROAD, SOLEBO JUNCTION, IKORODU, LAGOS STATE |
| 376 | LAGOS | IJEGUN | BESTGIFT COMPREHENSIVE SCHOOLS CBT CENTRE 1/8 TUNJI ADEWOYIN / 2 MULAK AVENUE IJEGUN IKOTUN LAGOS STATE |
| 377 | LAGOS | IDIMU | VALUE PLACE COLLEGE CBT CENTRE, 1 DUPEOLU STREET, OFF PIPELINE ROAD, PIPELINE B/STOP, OPPOSITE IDIMU POLICE STATION, IDIMU, ALIMOSHO LGA, LAGOS STATE |
| 378 | LAGOS | LAGOS ISLAND | FARYDHAK CONCEPTS, 100 TOKUNBO STR, LAGOS ISLAND, LAGOS |
| 379 | LAGOS | OJO | LASU CBT 18 LIMITED, LASU MAIN CAMPUS(1021010), OJO, LAGOS STATE |
| 380 | LAGOS | EGAN | GRAND SCHOOLS CBT CENTRE, 2/4/6 OLAOLUWA STR. ALONG SANTA MARIA STR. OFF ISUTI ROAD EGAN LAGOS STATE |
| 381 | LAGOS | IJANIKI | YEOLAN CBT CENTRE, 24-26, OMOTAYO AKINBO STRT., ALEMU S/STOP,KETU-IJANIKIN, LAGOS STATE |
| 382 | LAGOS | OKO OBA | PERFECT ANGELS CBT CENTRE, 12 MOSES EMEYA CLOSE, OFF SOCIAL CLUB ROAD, ABULE-EGBA, LAGOS STATE |
| 383 | LAGOS | OJOTA | MICTEC INTERNATIONAL CBT CENTRE, 23-29 EMMANUEL STREET, OFF OGUDU ROAD, OGUDU/OJOTA, LAGOS STATE |
| 384 | LAGOS | BADAGRY | MERITLAND CBT, 20 MUSA/MERITLAND STREET, IGBOROSUN, BADAGRY, LAGOS STATE |
| 385 | LAGOS | IKORODU | HOMAT SCHOOL OF BASIC STUDIES, 111 OBA OMOLAJA OGUNLEWE WAY, NEAR IGBE JUNCTION, IGBOGBO, IKORODU, LAGOS STATE |
| 386 | LAGOS | IJANIKIN | ADAMSPRING CBT,9 OWOSENI STR, IJANIKIN, LAGOS STATE |
| 387 | LAGOS | ONIKE | HUMAN DEVELOPMENT INITIATIVES (GRACE HOUSE), 2 IWAYA ROAD, SABO, OPP ONIKE GIRLS JNR HIGH SCHOOL, ONIKE, LAGOS STATE |
| 388 | LAGOS | EGBEDA/IDIMU | MOUNT GILGAL KONSULT LTD (EDUCATIONAL), 19 DAUDA OYENIRAN STREET, AGRIC ROAD, BY IGANDO POLICE STATION, ALIMOSHO LGA, LAGOS |
| 389 | LAGOS | OGBA | WAEC TESTING AND TRAINING CENTRE CTR 1, 60 IJAIYE ROAD, ADJACENT EXCELLENCE HOTEL, OGBA, LAGOS STATE |
| 390 | LAGOS | OGBA | WAEC TESTING AND TRAINING CENTRE CTR 2, 60 IJAIYE ROAD, ADJACENT EXELLENCE HOTEL, OGBA, LAGOS STATE |
| 391 | LAGOS | OJO | STATO COMPUTER, 38 IGBO-ELERIN ROAD, BESIDE JIOSMA FILLING STATION, OJO, LAGOS STATE |
| 392 | LAGOS | IKORODU | SARINTER COLLEGE, 130, MOSUNMOLA B/STOP IGBO-OLOMU, AGRIC., IKORODU, LAGOS STATE |
| 393 | LAGOS | IKORODU | INSPIRA COLLEGE, 29-35 GBERIGBE ROAD, IKORODU, LAGOS STATE |
| 394 | LAGOS | IKORODU | THE LAURELHALL SCHOOLS CBT CENTRE, LAURELHALL SCHOOLS AVENUE, LADEGBOYE ROAD, IMOWO KEKERE, OFF IJEDE ROAD, IKORODU, LAGOS STATE. |
| 395 | LAGOS | OJO | VERA GRACE GROUP OF SCHOOLS CBT, 7, EZEDE STREET, ILOGBO, ELEGBA TOWN BY ILOGBO ELEGBA SEC. SCHOOL B/STOP, OJO |
| 396 | LAGOS | BADAGRY | KEMMYSAM SCHOOLS ARUKWE STREET, ORE METTA JUNCTION , ARADAGUN BUS STOP BADAGRY EXPRESS WAY BADAGRY LAGOS |
| 397 | LAGOS | ELEPE | OBANS C.B.T. CENTRE PLOT 32, OBA IJAOLU ROAD, ELEPE BUS STOP, ELEPE TOWN, OFF IJEDE ROAD, IKORODU, LAGOS. |
List of JAMB Approved CBT Registration Centers In NASARAWA
| | | | |
| --- | --- | --- | --- |
| 398 | NASARAWA | DOMA | SKY CITY CBT CENTRE LIMITED, ST. JOHN BOSCO SECONDARY SCHOOL, DOMA, NASARAWA STATE |
| 399 | NASARAWA | KARU | BINGHAM UNIVERSITY, ALONG KEFFI-ABUJA EXPRESSWAY, AUTA-BALEFI, NEW KARU, NASARAWA STATE |
| 400 | NASARAWA | KEFFI | ANTI-CORRUPTION ACADEMY OF NIGERIA, KM 46, ABUJA-KEFFI EXPRESSWAY, BESIDE NASARAWA STATE NYSC ORIENTATION CAMP, KEFFI, NASARAWA STATE |
| 401 | NASARAWA | KARU | FUTURE GATE MODEL SCHOOL CTR 1, BESIDE PISAND GUEST INN BAKIN ADO, NEW KARU NASARAWA STATE |
| 402 | NASARAWA | LAFIA | NASARAWA STATE POLYTHECNIC, OMBI 1, JOS ROAD, LAFIA, NASARAWA STATE |
| 403 | NASARAWA | LAFIA | JAMB ZONAL OFFICE, FORMER NASARAWA NEWSDAY, ADJACENT TAAL E-LIBRARY, OLD TOMATO MARKET ROAD, LAFIA. NASARAWA STATE (REGISTRATION ONLY)) |
| 404 | NASARAWA | LAFIA | COMMAND SCIENCE SECONDARY SCHOOL, B.A.D ROAD, LAFIA, NASARAWA STATE |
| 405 | NASARAWA | MARARABA | LIZDAV ACADEMY NURSERY, PRIMARY & SECONDARY SCHOOL, ALONG CALVARY ROAD, RUGA JUNCTION, MARARABA, NASARAWA STATE |
| 406 | NASARAWA | MASAKA | GODS OWN SCHOLARS ACADEMY, ANGWANSOJA, AREA1, MASAKA, NASARAWA STATE |
| 407 | NASARAWA | MASAKA | KADA MODEL ICT CENTER, AREA 1, AKWANGA JUNCTION, MASAKA, KARU, NASARAWA STATE |
| 408 | NASARAWA | NASARAWA | FEDERAL POLYTECNIC, NASARAWA, NASARAWA STATE |
| 409 | NASARAWA | KARU | FUTURE GATE MODEL SCHOOL CTR 2, BESIDE PISAND GUEST INN BAKIN ADO, NEW KARU NASARAWA STATE |
| 410 | NASARAWA | MASAKA | CHILDWORTH INTERNATIONAL SCHOOL, ANWAN SOJA, AREA 1 MASAKA, KARU LGA, NASARAWA STATE |
| 411 | NASARAWA | KEFFI | SUPREME KINGS & QUEENS ACADEMY, GOVERNMENT COLLEGE KEFFI, GRA KEFFI, NASARAWA STATE |
| 412 | NASARAWA | LAFIA | LAFIA KNOWLEDGE CENTRE, BAKAH SIDI, ADJACENT NATIONAL OPEN UNIVERSITY, JOS ROAD, LAFIA NASARAWA, NASARAWA STATE |
| 413 | NASARAWA | KARU | ROYAL MIDLAND CBT, KM 6, ABUJA-KEFFI ROAD, KORODUMA (ONE MAN VILLAGE), KARU |
| 414 | NASARAWA | KEFFI | JEREEGA ACADEMY, BEHIND GSS SABON GARI, KEFFI, NASARAWA STATE |
| 415 | NASARAWA | MARARABA | EXCELLESIA CBT, NO 9 SULE ADAMU STREET, OFF SANI ABACHA ROAD, BEHIND OANDO FILLING STATION, BESIDE ANDY YOUNG ALUMINIUM, MARARABA, NASARAWA STATE |
| 416 | NASARAWA | LAFIA | UMARU TANKO AL-MAKURA CBT CENTRE BEHIND TA'AL MODEL E-LIBRARY ADJACENT JAMB LAFIA ZONAL OFFICE LAFIA, NASARAWA STATE |
| 417 | NASARAWA | LAFIA | JAMB PROFESSIONAL TEST CENTRE (PTC) HALL 1, OLD TOMATO MARKET ROAD, BEHIND TA'AL MODEL E-LIBRARY, LAFIA, NASARAWA STATE |
| 418 | NASARAWA | LAFIA | ABDULLAHI A. SULE CBT CENTRE, OLD TOMATO MARKET ROAD, BEHIND TA'AL MODEL E-LIBRARY, LAFIA, NASARAWA STATE |
| 419 | NASARAWA | KEFFI | NASARAWA STATE UNIVERSITY, ICT CENTER 1, KEFFI, NASARAWA STATE |
| 420 | NASARAWA | KARU | HOPE-JON INTERNATIONAL SCHOOL, BESIDE DE-ROYAL NOODLES, BY ADKAN ESTATE, CITY COLLEGE ROAD, KARU, NASARAWA STATE. |
| 421 | NASARAWA | LAFIA | MINISTRY OF EDUCATION STAFF COOPERATIVE THRIFT & LOANS SOCIETY, VOCATIONAL AND RELEVANT TECHNOLOGY BOARD, ADJACENT POLICE CHILDREN SCHOOL, BEHIND OLD ACCESS BANK, JOS ROAD, LAFIA, NASARAWA STATE |
List of JAMB Approved CBT Registration Centers In NIGER
| | | | |
| --- | --- | --- | --- |
| 422 | NIGER | BIDA | FEDERAL POLYTECHNIC, ICT HALL, DOKO ROAD, BIDA, NIGER STATE |
| 423 | NIGER | SULEJA | AIR-MAX COMPUTER INSTITUTE, BESIDE ST. THERESA CATHOLIC CHURCH, MADALLA, NIGER STATE |
| 424 | NIGER | MINNA | FEDERAL UNIVERSITY OF TECH, ELECTRONIC TEST CENTRE , GIDAN KWANO CAMPUS, MINNA, NIGER STATE |
| 425 | NIGER | MINNA | JAMB/NCC PROFESSIONAL TEST CENTRE (PTC), 3 ARMS ZONE, MAITUMBI, BESIDE JAMB OFFICE, MINNA, NIGER STATE |
| 426 | NIGER | MINNA | NIGER STATE COLLEGE OF EDUCATION, CBT CENTRE, MINNA, NIGER STATE |
| 427 | NIGER | MINNA | JAMB PROFESSIONAL TEST CENTRE (PTC), CBT CENTRE, 3 ARMS ZONE, MAITUMBI, JAMB OFFICE MINNA, NIGER STATE |
| 428 | NIGER | MINNA | FEDERAL UNIVERSTY OF TECHNOLOGY, E-EXAM CENTRE2, MAIN CAMPUS, GIDAN KWANO, MINNA, NIGER STATE |
| 429 | NIGER | SULEJA | BISHOP JAMES YISA MEMORIAL SCHOOL CBT CENTRE, KWAMBA, SULEJA, NIGER STATE |
| 430 | NIGER | ZUNGERU | NIGER STATE POLYTECHNIC, ZUNGERU-BIDA ROAD, ZUNGERU, NIGER STATE |
| 431 | NIGER | MINNA | FEDERAL UNIVERSITY OF TECH, E-EXAM CENTRE 3, MAIN CAMPUS, GIDAN KWANO, MINNA, NIGER STATE |
| 432 | NIGER | GAURAKA | BRILLIANT IMPACT INTERNATIONAL ACADEMY CBT CENTRE, PLOT 1,2 & 3 BRILLIANT IMPACT STREET, ANGWAN- TOMATO GAURAKA, GAURAKA BUS-STOP OPPOSITE SHEMA FILLING STATION OFF ABUJA – KADUNA EXPRESS WAY TAFA L.G.A. NIGER STATE |
| 433 | NIGER | MINNA | 2H COMPUTER AND ICT SOLUTIONS, GARIMA PLAZA, BESIDE FUT MINNA BOSSO CAMPUS, MINNA, NIGER STATE |
| 434 | NIGER | MINNA | AHINSIF GLOBAL RESOURCES AND INVESTMENT LTD CBT CENTRE, NO. 6, SOJE AVENUE, ALONG KPAKUNGUN ROAD, OFF MORRIS FERTILIZER JUNCTION, MINNA, NIGER STATE |
List of JAMB Approved CBT Registration Centers In OGUN
| | | | |
| --- | --- | --- | --- |
| 435 | OGUN | ABEOKUTA | JAMB STATE OFFICE, ABEOKUTA, OGUN STATE (Registration Only) |
| 436 | OGUN | ABEOKUTA | MOSHOOD ABIOLA POLYTECHNIC OJERE ABEOKUTA, OGUN STATE |
| 437 | OGUN | IGBESA | OGUN STATE INSTITUTE OF TECHNOLOGY, OBA ADESOLA MARKET ROAD, IGBESA, OGUN STATE |
| 438 | OGUN | IJEBU ODE | KONCEPT KOMPUTER ENTERPRISES (CTR 1), 10 CHRIS OGUNBANJO WAY OPPOSITE. COCA COLA DEPOT IJARI, IJEBU ODE, OGUN STATE |
| 439 | OGUN | ILISHAN-REMO | BABCOCK UNIVERSITY, CIT COMPUTER LABORATORY, ILISAN-REMO, OGUN STATE |
| 440 | OGUN | MOWE | REDEEMER'S UNIVERSITY, K/M 46, LAGOS EXP. WAY, MOWE, OGUN STATE |
| 441 | OGUN | IKENNE | PEAKAN INTERNATIONAL SCHOOL,53-55, AWOLOWO AVENUE, IKENNE, OGUN STATE |
| 442 | OGUN | IFO | ASTUTE COLLEGE, ASTUTE COLLEGE STRT. OFF COKER IBOGUN AKINSINDE RD, IFO, OGUN STATE |
| 443 | OGUN | IJEBU ODE | KONCEPT KOMPUTER ENTERPRISES(CTR 2), 10 CHRIS OGUNBANJO WAY OPPOSITE. COCA COLA DEPOT IJARI, IJEBU ODE, OGUN STATE |
| 444 | OGUN | ABEOKUTA | MUEENAT INTERNATIONAL ACADEMY, BEHIND MECHANIC VILLAGE, OBADA, ABEOKUTA, OGUN STATE |
| 445 | OGUN | ABULE IJOKO | BATMOD HUB, BEHIND MOBIDUF FILLING STATION, ADJACENT BATMOD PRY SCH ABULE IJOKO, OGUN STATE |
| 446 | OGUN | SANGO OTA | THE ULTIMATE COLLEGE, 8/10 OYEWUNMI STR. DOCTOR B/STOP. OKEOLA ITELE RD OTA, OGUN STATE |
| 447 | OGUN | ALAGBOLE – AKUTE | EARLY HEIGTHS COLLEGE, NO 17 BABA DADA CLOSE ALAGBOLE, OGUN STATE |
| 448 | OGUN | OTA | BELLS UNIVERSITY OF TECH. K/M 8 IDI-IROKO RD. OTA, OGUN STATE |
| 449 | OGUN | OWODE YEWA | THE GEM INTERNATIONAL SCHOOL, 1 GEM SCHOOL STREET ISHAGA OWODE YEWA, OGUN STATE |
| 450 | OGUN | MOWE | THE EAGLE HAND NIGERIA LIMITED. NO 3. IKUNGBONMIRE STREET, LOBURO, OFF MOWE OFADA ROAD, BEHIND EXCEPT GOD SCHOOL , MOWE, OGUN STATE |
| 451 | OGUN | AYETORO | COMPREHENSIVE HIGH SCHOOL, OKE-OYINBO QUARTERS AYETORO, OGUN STATE |
| 452 | OGUN | OTA | HSS AMAZING, HOLY SAVIOUR SCHOOL 30/32 OLD OTA ROAD, ADELEYE, APARADIJA, ISUNBA, LAFENWA, ITELE, OGUN STATE. |
| 453 | OGUN | OTA | HSS GRACE, HOLY SAVIOUR SCHOOL 30/32 OLD OTA ROAD, ADELEYE, APARADIJA, ISUNBA, LAFENWA, ITELE, OGUN STATE. |
| 454 | OGUN | ALAGBOLE – AKUTE | TIP-TOP SCHOOLS, UNITY RD. ALARAB ESTATE ORIYANRIN BY FASAKIN STREET ISASI AKUTE. OGUN STATE |
| 455 | OGUN | AGBARA | PRIME TOUCH COMPUTER, PLOT 5 & 6, BESIDE GZI COMPANY AREA 5, OPIC ESTATE, IPERIN, OGUN STATE |
| 456 | OGUN | IJEBU ODE | ABRAHAM ADESANYA POLYTECHNIC, JKK CBT CENTRE, IJEBU-IGBO, OGUN STATE |
List of JAMB Approved CBT Registration Centers In ONDO
| | | | |
| --- | --- | --- | --- |
| 457 | ONDO | AKUNGBA | ADEKUNLE AJASIN UNIVERSITY, ICT CENTRE 1, AKUNGBA-AKOKO, ONDO STATE |
| 458 | ONDO | AKURE | HOLLARAM EDUCATIONAL SERVICES, ONDO STATE LIBRARY BOARD COMPLEX, BESIDE ST. PETER UNITY SECONDARY SCHOOL, OYEMEKUN ROAD, AKURE, ONDO STATE |
| 459 | ONDO | AKURE | JAMB STATE OFFICE, AKURE, ONDO STATE (REGISTRATION ONLY) |
| 460 | ONDO | AKURE | FEDERAL UNIVERSITY OF TECHNOLOGY, DIGITAL RESEARCH CENTRE 1, OBANLA, AKURE, ONDO STATE |
| 461 | ONDO | ONDO | MIS/ICT CBT CENTRE, ADEYEMI COLLEGE OF EDUCATION, ONDO, ONDO STATE. |
| 462 | ONDO | ONDO | BABSON ICT CENTRE, ONDO BOYS' HIGH SCHOOL, ONDO, ONDO STATE. |
| 463 | ONDO | ILARA-MOKIN | PUBLIC SERVICE TRAINING INSTITUTES CBT CENTRE AKURE-ILESA EXPRESSWAY, ILARA-MOKIN, ONDO STATE |
| 464 | ONDO | IKARE-AKOKO | OPEOLUWA E-LEARNING CENTRE, TIPPER JUNCTION, ALONG LOCAL GOVT. SECRETARIAT RD, ALAPATA QTRS, IKARE-AKOKO, ONDO STATE |
| 465 | ONDO | OWO | AMABLE NIG.LTD CBT CENTRE 21 OKE-OGUN ROAD, BESIDE ONIREKE HOTEL, ALONG GOVT TECHNICAL COLLEGE, OKE OGUN, OWO, ONDO STATE |
| 466 | ONDO | AGADAGBA | DERIMOBO ICT PLACE, DERIMOBO MODEL COLLEGE, AMAPERE ROAD, AGADAGBA, ODO LGA, ONDO STATE |
| 467 | ONDO | AKURE | SVILLE TECHNOLOGY CONCEPT (STC) LTD, C.A.C GRAMMAR SCHOOL, ONDO ROAD, AKURE, ONDO STATE. |
| 468 | ONDO | OKITIPUPA | TIPLOGO NIGERIA LIMITED NO. 19 ALLI BALOGUN STREET, OKITIPUPA LGA, ONDO STATE |
| 469 | ONDO | AKURE | AINA AWAW INTERNATIONAL COLLEGE ICT HALL, KM 10, ALONG AKURE/OWO ROAD, ILU-ABO, AKURE NORTH, AKURE, ONDO STATE. |
| 470 | ONDO | AKURE | OLOYEMEKUN DIGITAL TECH, WITHIN OYEMEKUN GRAMMAR SCHOOL, AKURE, ONDO STATE. |
| 471 | ONDO | AKURE | JAMB PTC CENTRE 1 (JAMB WING) QUARTER 92 ALAGBAKA ESTATE, NEAR CBN OFFICE, IBB AVENUE, AKURE , ONDO STATE |
List of JAMB Approved CBT Registration Centers In OSUN
| | | | |
| --- | --- | --- | --- |
| 472 | OSUN | EDE | ADELEKE UNIVERSITY CBT CENTRE, ADELEKE UNIVERSITY MAIN CAMPUS ALONG OGBERIN-LOGUN ROAD, OPPOSITE FEDERAL POLYTECHNIC SOUTH CAMPUS EDE, OSUN STATE |
| 473 | OSUN | EDE | FEDERAL POLYTECHNIC, SOUTH CAMPUS CBT CENTRE, EDE, OSUN STATE. |
| 474 | OSUN | EDE | REDEEMERS UNIVERSITY, ICT CENTRE, EDE, OSUN STATE |
| 475 | OSUN | ESA-OKE | OSUN STATE COLLEGE OF TECHNOLOGY, E-LIBRARY, ESA -OKE, OSUN STATE |
| 476 | OSUN | IKEJI-ARAKEJI | JOSEPH AYO BABALOLA UNIVERSITY, IKEJI-ARAKEJI, OSUN STATE |
| 477 | OSUN | ILA-ORANGUN | OSUN STATE COLLEGE OF EDUCATION, E-LIBRARY, ILA-ORANGUN, OSUN STATE |
| 478 | OSUN | ILE-IFE | OBAFEMI AWOLOWO UNIVERSITY, ICT HALL B, ILE-IFE, OSUN STATE. |
| 479 | OSUN | OSOGBO | JAMB PROFESSIONAL TEST CENTRE (PTC), BLOCK Y (COMMERCIAL) OSPDC, OROKI ESTATE, SERVICE AREA, ILOBU ROAD, OSOGBO,OSUN STATE. |
| 480 | OSUN | OSOGBO | JAMB STATE OFFICE, OSOGBO, OSUN STATE (REGISTRATION ONLY) |
| 481 | OSUN | IKIRE | OSUN STATE UNIVERSITY IKIRE, IWO ROAD, OSUN STATE |
| 482 | OSUN | IWO | BOWEN UNIVERSITY COMPUTER SCIENCE AND INFORMATION TECHNOLOGY LAB, IWO, OSUN STATE |
| 483 | OSUN | ERIN-OSUN | ELERINMOSA RESOURCE HUB LTD, EDE ROAD, OKE AWESIN, ERIN-OSUN, OSUN STATE. |
| 484 | OSUN | ILESA | ICT HALL A, OSUN STATE COLLEGE OF EDUCATION ALONG IBODI-IFE ROAD, ILESA, OSUN STATE. |
| 485 | OSUN | ILESA | ICT HALL B, OSUN STATE COLLEGE OF EDUCATION ALONG IBODI-IFE ROAD, ILESA, OSUN STATE. |
| 486 | OSUN | ILE-IFE | FOYRMOST VENTURES LTD (FVL) MILLENNIUM CONCEPTS CBT CENTRE HALL-A, ODUDUWA COLLEGE ROAD, OFF FAJUYI ROAD, SABO, ADJACENT STATE FIRE SERVICE BUILDING, OLD ODUDUWA COLLEGE COMPOUND, ILE-IFE. OSUN STATE. |
| 487 | OSUN | MODAKEKE | TOP CONCEPTS INFOTECH SERVICES, TOP CONCEPTS ICT COMPLEX, OKE-OTUBU AREA, FAMIA ROAD, MODAKEKE, OSUN STATE. |
| 488 | OSUN | MORO | ICT/CBT HALL A, CENTRE FOR DISTANCE LEARNING OBAFEMI AWOLOWO UNIVERSITY, MORO CAMPUS, OSUN STATE |
| 489 | OSUN | IWO | THE WINGS SCHOOLS CBT CENTRE. PLOT 8-18, THE WINGS SCHOOL CRESCENT, IWO-OSOGBO EXPRESS WAY, IWO, OSUN STATE |
| 490 | OSUN | OSOGBO | ALL BEST ALLIED ICT AND VOCATIONAL CENTRE BLOCK 1, BEHIND ZARA GUEST HOUSE, ONWARD, GBONGAN ROAD, OSOGBO, OSUN STATE. |
| 491 | OSUN | OSOGBO | EXCELLENT EDUCATIONAL INSTITUTE CBT CENTRE, ZONE 1, AYEKALE ESTATE, AYEKALE. OFF IKIRUN-OSOGBO ROAD, ALONG STREET OPPOSITE OTA EFUN GARAGE, OSOGBO. |
| 492 | OSUN | MORO | ICT/CBT HALL B, CENTRE FOR DISTANCE LEARNING OBAFEMI AWOLOWO UNIVERSITY, MORO CAMPUS, OSUN STATE. |
| 493 | OSUN | OSOGBO | JAMB PROFESSIONAL TEST CENTRE I, (JAMB WING) BEHIND TECHNICAL COLLEGE WAEC ROAD ALEKUNWODO, OSOGBO, OSUN STATE. |
| 494 | OSUN | OSOGBO | JAMB PROFESSIONAL TEST CENTRE II, (NCC WING) BEHIND TECHNICAL COLLEGE WAEC ROAD ALEKUNWODO, OSOGBO, OSUN STATE. |
| 495 | OSUN | OSOGBO | OSUN STATE UNIVERSITY, OSOGBO, IMTC CENTRE A , OKE-BAALE, OSOGBO, OSUN STATE. |
| 496 | OSUN | OSOGBO | NEW GENERATION BRIGHT HOPE SCHOOL CBT CENTRE, ZONE O, KOBO AREA, OSOGBO, OSUN STATE |
| 497 | OSUN | OSOGBO | OSUN STATE UNIVERSITY, OSOGBO, IMTC CENTRE B, OKE-BAALE, OSOGBO, OSUN STATE |
List of JAMB Approved CBT Registration Centers In OYO
| | | | |
| --- | --- | --- | --- |
| 498 | OYO | IBADAN EAST | JAMB PROFESSIONAL TEST CENTRE (PTC), JAMB ZONAL OFFICE, QUARTERS 845, AGODI G.R.A, IBADAN, OYO STATE |
| 499 | OYO | IBADAN WEST | THE POLYTECHNIC IBADAN ICT CENTRE BESIDE WEMA BANK, IBADAN, OYO STATE |
| 500 | OYO | IBADAN WEST | UNIVERSITY OF IBADAN, DISTANCE LEARNING CBT CENTRE 1 , 1500 SEATER, OFF AJIBODE, SASA ROAD, IBADAN, OYO STATE |
| 501 | OYO | IBADAN WEST | ESTHER OSHIKOYA CBT CENTRE, SANGO ELEYELE ROAD, AROMETA BUS STOP, OPPOSITE NMPC FILLING STATION, AROMETA, IBADAN, OYO STATE |
| 502 | OYO | IBADAN WEST | THE POLYTECHNIC IBADAN ICT CENTRE 2 BESIDE WEMA BANK, IBADAN, OYO STATE |
| 503 | OYO | IBADAN WEST | UNIVERSITY OF IBADAN, DISTANCE LEARNING CBT CENTRE 2, 1500 SEATER, OFF AJIBODE, SASA ROAD, IBADAN, OYO STATE. |
| 504 | OYO | IBADAN WEST | ATANDA GROUP OF SCHOOLS ICT RESOURCE CENTRE, OPPOSITE TEACHERS HOUSE, OLUYOLE ESTATE, IBADAN, OYO STATE |
| 505 | OYO | OGBOMOSO | LADOKE AKINTOLA UNIVERSITY OF TECHNOLOGY, CENTRE 1, SKYE BANK HALL , OGBOMOSO. OYO STATE |
| 506 | OYO | OGBOMOSO | LADOKE AKINTOLA UNIVERSITY OF TECHNOLOGY, CAD CBT CENTRE 2, OGBOMOSO. OYO STATE |
| 507 | OYO | SAKI | THE OKE-OGUN POLYTECHNIC, SAKI, OYO STATE |
| 508 | OYO | IBADAN WEST | UNIVERSITY OF IBADAN DISTANCE LEARNING CBT CENTRE 3, 1500 SEATER, OFF AJIBODE, SASA ROAD, IBADAN, OYO STATE. |
| 509 | OYO | OYO | EMMANUEL ALAYANDE COLLEGE OF EDUCATION, E-LIBRAY, OYO, OYO STATE |
| 510 | OYO | IBADAN EAST | I-FLIER INT SCHOOL CBT CENTRE 1,UNIT 1-3, I- FLIER COLLEGE ROAD, OPPOSITE DON BOSCO YOUTH CENTRE, OGUNGBADE ROAD, EGBEDA, IBADAN |
| 511 | OYO | OYO | EMMANUEL ALAYANDE COLLEGE OF EDUCATION, CBT CENTRE 3, EMMAMUEL ALAYANDE COLLEGE OF EDUCATION, ERELU, OYO STATE |
| 512 | OYO | IBADAN EAST | I-FLIER INT SCHOOL CBT CENTRE 2, UNIT 1-3, I- FLIER COLLEGE ROAD, OPPOSITE DON BOSCO YOUTH CENTRE, OGUNGBADE ROAD, EGBEDA, IBADAN, OYO STATE |
| 513 | OYO | IBADAN WEST | SIGNAL WORLD CBT, RASCO BUILDING, ADEGOKE BUS STOP, LAM ADESINA WAY, ORITA CHALLENGE, IBADAN, OYO STATE |
| 514 | OYO | IBADAN WEST | COMMAND SECONDARY SCHOOL, ICT CENTRE APATA, IBADAN, OPPOSITE SOPDAMAK PETROL STATION, ALONG ABEOKUTA EXPRESSWAY, BODE IGBO, IBADAN, OYO STATE |
| 515 | OYO | OGBOMOSO | LADOKE AKINTOLA UNIVERSITY OF TECHNOLOGY, NEW ICT CENTRE 3 ODL BUILDING, P.M.B 4000, OGBOMOSO. OYO STATE |
| 516 | OYO | IBADAN WEST | YINBOL COLLEGE, ICT RESOURCE CENTRE, NEAR U.I GATE, OROGUN, OJOO ROAD, IBADAN, OYO STAE |
| 517 | OYO | IBADAN WEST | ABDUL OCEAN WEALTH CBT CENTRE, 6 ,TIOYA JUNCTION, AKANRAN ROAD, OLORUNSOGO IBADAN, OYO STATE |
| 518 | OYO | OYO | ATIBA UNIVERSITY CBT, KM 5, OYO-ISEYIN EXPRESSWAY OYO TOWNSHIP, OYO STATE |
| 519 | OYO | OYO | ELECTROMEDIA COMPLEX CENTRE 2, FEDERAL COLLEGE OF EDUCATION (SPECIAL), OYO, OYO STATE |
| 520 | OYO | IBADAN WEST | VALIANTS HAVILAH CBT CENTRE, GOVERNMENT TECHNICAL COLLEGE ROAD, EJIOKU, IBADAN,OYO STATE |
| 521 | OYO | IBADAN WEST | WEST CONSULT CBT, ADJACENT FIRST BANK, THE POLYTECHNIC, IBADAN GATE, OYO STATE |
| 522 | OYO | ERUWA | ADESEUN OGUNDOYIN POLYTECHNIC,(AOPE) CBT CENTRE, ERUWA, OYO STATE |
| 523 | OYO | IBADAN WEST | EMBETH CBT CENTRE, NEW GARAGE/AKALA EXPRESS WAY, OPPOSITE RICHBAM FILLING STATION, KUOLA BUS STOP, IBADAN, OYO STATE |
| 524 | OYO | OYO | SALAMAT OLANIYAN COLLEGE CBT CENTRE, OYO-IBADAN ROAD, OPPOSITE SAW MILL KRAAL ABATTOIR AFTER ILORA JUNCTION, OYO, OYO STATE |
| 525 | OYO | IBADAN EAST | HISMAY CBT CENTRE, NO 1, NIGERIA BREWERY, NEW IFE EXPRESS WAY, IBADAN, OYO STATE. |
| 526 | OYO | IBADAN EAST | PEFTI CBT CENTE, 32 OYO ROAD, COCA COLA AEA, IBADAN, OYO STATE |
| 527 | OYO | IBADAN WEST | MUTAN CBT CENTRE,NO 1, MUTAN BUILDING, ISLAMIC MISSION PRIMARY SCHOOL, MONIYA, IBADAN, OYO STATE |
| 528 | OYO | IBADAN EAST | PERFECT WISDOM COLLEGE, CBT CENTRE, NO 13, LOKOSU STREET, ADULOJU, BODIJA, IBADAN, OYO STATE |
| 529 | OYO | IBADAN EAST | DOLVIC SCHOOL CBT CENTRE, HOUSE 1, ROAD 2, IFELODUN ALARU AJARA, IBADAN, OYO STATE |
| 530 | OYO | IBADAN WEST | ICON ONLINE PROFESSIONAL TUTORS,PLOT 22/23 TINUADE COMMERCIAL HOUSE,OLOGUNERU ROAD, IBADAN, OYO STATE |
| 531 | OYO | IBADAN WEST | ALUKO E-NET ICT CENTRE ROAD 3, AMOO ALI-BOLARIN LAYOUT,BEHIND T.O.G OIL AND GAS FILLING STATION,NNPC ROAD, APATA, IBADAN, OYO STATE |
| 532 | OYO | IBADAN WEST | FEDERAL COLLEGE OF FORESTRY CBT CENTRE.AFTER ALL SAINTS CHURCH ALONG IDI ISHIN, NIHORT ROAD, JERICHO HILLS, IBADAN OYO STATE |
| 533 | OYO | IBADAN EAST | ICON ONLINE PROFESSIONAL TUTORS CENTRE 2, PLOT 22/23 TINUADE COMMERCIAL HOUSE, OLOGUNERU ROAD, ELEYELE, IBADAN, OYO STATE |
| 534 | OYO | IBADAN EAST | QUEEN VEE SCHOOLS CBT CENTRE, OPPOSITE NIGERIA ARMY POOL RESERVE, OLORUNDA ROAD, AKOBO, OJURIN, IBADAN |
| 535 | OYO | IBADAN WEST | COVENANT COLLEGE CBT CENTRE, NO 5, COVENANT CATHEDRAL, COVENANT BUS STOP, ARISE ROAD, OLOKO, APATA, IBADAN, OYO STATE |
| 536 | OYO | IBADAN EAST | NESAM INTERNATIONAL SCHOOL CBT CENTRE,NESAM INT'L SCHOOL, NO 1 ALEXANDER ROAD, APATA VIA IMMACULATE HOSPITAL |
List of JAMB Approved CBT Registration Centers In PLATEAU
| | | | |
| --- | --- | --- | --- |
| 537 | PLATEAU | GINDIRI | COLLEGE OF EDUCATION GINDIRI, MANGU-GINDIRI ROAD, JOS. PLATEAU STATE |
| 538 | PLATEAU | JOS | BIODIRA MULTI BIZ CONCEPT, BRITISH AMERICA JUNCTION BY NO 4 LIBERTY BOURLEVARD JOS, PLATEAU STATE |
| 539 | PLATEAU | JOS | RAJIB COMPUTER ACADEMY, BEHIND UNION BANK, ALONG MUSEUM ROAD, JOS, PLATEAU STATE |
| 540 | PLATEAU | JOS | JAMB STATE OFFICE, 56 MURTALA MOHAMED WAY, JOS, PLATEAU STATE (REGISTRATION ONLY) |
| 541 | PLATEAU | BARKIN LADI | PLATEAU STATE POLYTECHNIC, HEIPANG, BARKIN LADI, PLATEAU STATE |
| 542 | PLATEAU | PANKSHIN | FEDERAL COLLEGE OF EDUCATION ( CENTRE 1) JOS-PANSHIN ROAD, PANKSHIN, PLATEAU STATE. |
| 543 | PLATEAU | JOS | ECWA INTERNATIONAL COLLEGE OF TECHNOLOGY, 7, JOSEPH GOMWALK ROAD, OPP. DSTV OFFICE, JOS, PLATEAU STATE. |
| 544 | PLATEAU | SHENDAM | OUR LADY OF FATIMA, OFF TURKUS ROAD, ALONG PRISONS OFFICE, SHENDAM, PLATEAU STATE |
| 545 | PLATEAU | JOS | SKYNET INFORMATION TECHNOLOGY INSTITUTE, JOS NO. 15/16 NEAR ZOLOLO JUNCTION BAUCHI ROAD, JOS NORTH. PLATEAU STATE |
| 546 | PLATEAU | JOS | NIGERIAN INSTITUTE OF MINING AND GEOSCIENCES (NIMG), NO 1, METROPOLITAN AVENUE, TUDUN-WADA, JOS, PLATEAU STATE |
| 547 | PLATEAU | PANYAM | NAKAM MEMORIAL SECONDARY SCHOOL, PANYAM-PANKSHIN ROAD, PANYAM, PLATEAU STATE |
| 548 | PLATEAU | JOS | GOVERNMENT SCIENCE AND TECHNICAL COLLEGE, BUKURU CBT HUB, KURU-VOM ROAD, PLATEAU STATE |
| 549 | PLATEAU | JOS | ABSHA DIGITAL ACCESS, NO. 3 FORMER NITEL BUILDING YAKUBU GOWON WAY, OLD AIRPORT JUNCTION JOS, PLATEAU STATE |
| 550 | PLATEAU | BOKKOS | NIGERIA BUILDING AND ROAD RESEARCH INSTITUTE(NBRRI) ICT CENTRE, KM 5, BOKKOS-MANGU, BOT BOKKOS, PLATEAU STATE |
| 551 | PLATEAU | PANKSHIN | FEDERAL COLLEGE OF EDUCATION (CENTRE 2), JOS-PANSHIN ROAD, PANKSHIN, PLATEAU STATE. |
List of JAMB Approved CBT Registration Centers In RIVERS
| | | | |
| --- | --- | --- | --- |
| 552 | RIVERS | PORT HARCOURT | UNIVERSITY OF PORT HARCOURT, SCHOOL OF BASIC STUDIES, ABUJA CAMPUS, CHOBA, RIVERS STATE |
| 553 | RIVERS | ELELENWO | EVINOK CONNECTION NIG. LTD, 128C OLD REFINERY ROAD, ELELENWO, RIVERS STATE |
| 554 | RIVERS | PORT HARCOURT | RIVERS STATE UNIVERSITY, ICT CENTER, NKPOLU-OROWORUKWO, MILE 3, PORT HARCOURT, RIVERS STATE |
| 555 | RIVERS | ETCHE | KINGS WORD COLLEGE, SHALOM ESTATE, OFF LOCATION 15, OFF SHELL OFFICE, UMUEBULE 1, ETCHE, RIVERS STATE |
| 556 | RIVERS | PORT HARCOURT | EBENEZER INTERNATIONAL SCHOOL, NO. 23, BARRY WHITE STREET, NEAR MTN MAST, ELIMGBU SLAUGHTER, ELIMGBU, PORT HARCOURT, RIVERS STATE |
| 557 | RIVERS | PORT HARCOURT | JAMB ZONAL OFFICE, 10 ABA ROAD, OPP ABALI PARK, PORT HARCOURT (REGISTRATION ONLY), RIVERS STATE |
| 558 | RIVERS | PORT HARCOURT | BONNY KINGDOM CBT CENTRE FEDERAL POLUTECHNIC OF OIL AND GAS ABALAMABIE ROAD, BONNY ISLAND, RIVERS STATE |
| 559 | RIVERS | OMOKU | FEDERAL COLLEGE OF EDUCATION TECHNICAL, OMOKU, RIVERS STATE |
| 560 | RIVERS | PORT HARCOURT | ASHGROVE ACADEMY, UNIVERSITY OF PORT HARCOURT (ABUJA CAMPUS) CHOBA, RIVERS STATE |
| 561 | RIVERS | ELEME | RANJENNYS SCHOOLS, OBO-WANKE ROAD, BY DIVISIONAL POLICE STATION, ELEME, RIVERS STATE |
| 562 | RIVERS | IGBO ETCHE | E – DISTRICT, PLOT 78, BESIDE DE UMAHS HOTEL, IGBO ETCHE, RIVERS STATE |
| 563 | RIVERS | ELELE | STATE SCHOOL III ELELE TOWN, ALONG OWERRI ROAD, BESIDE OUR LADY OF LOURDES, CATHOLIC CHURCH, IKWERRE L.G.A, RIVERS STATE |
| 564 | RIVERS | PORT HARCOURT | AVE MARIA INTERNATIONAL ACADEMY CTR 1 OPPOSITE DEEPER LIFE BIBLE CHURCH HQTRS, EAST-WEST RD, RUMUODARA, PHC, RIVERS STATE |
| 565 | RIVERS | PORT HARCOURT | PROVIL SCHOOLS CBT CENTER, 3/5 PROVIL CLOSE, NTA ROAD, OPP AIT, OZUOBA, PORT HARCOURT, RIVERS STATE |
| 566 | RIVERS | PORT HARCOURT | AVE MARIA INTERNATIONAL ACADEMY CTR 2 OPPOSITE DEEPER LIFE BIBLE CHURCH HQTRS, EAST-WEST RD, RUMUODARA, PHC, RIVERS STATE |
| 567 | RIVERS | PORT HARCOURT | A-PAGEN CONSOLIDATED SERVICES LIMITED, CBT CENTER 2, NO 18, NATHAN AMADI AVENUE, NEAR HUMANITY HOTEL, WHITE HOUSE BUS STOP, RUKPOKWU, PORT HARCOURT, RIVERS STATE |
| 568 | RIVERS | PORT HARCOURT | BRIGHT HOPE STANDARD COLLEGE, 29 ORAMMA ROAD, EGBELU, OYIGBO, OPPOSITE OKRO MARKET, RIVERS STATE |
| 569 | RIVERS | PORT HARCOURT | STATE PRIMARY SCHOOL 1, CHURCHILL, BOROKIRI, PORT HARCOURT, RIVERS STATE |
| 570 | RIVERS | ELELENWO | MARANATHA AND ASSOCIATES, ODANI GREEN CITY ESTATE, ELELENWO, RIVERS STATE |
| 571 | RIVERS | PORT HARCOURT | ICT CENTRE, IGANTIUS AJURU UNIVERSITY OF EDUCATION OF IKWERE RD BY WHIMPY JUNCTION, RUMUOLUMENI, PHC, RIVERS STATE |
List of JAMB Approved CBT Registration Centers In SOKOTO
| | | | |
| --- | --- | --- | --- |
| 572 | SOKOTO | SOKOTO | BLUE CRESCENT SCHOOLS CBT CENTRE, MABERA AREA SOKOTO, SOKOTO STATE |
| 573 | SOKOTO | SOKOTO | SHEHU SHAGARI COLLEGE OF EDUCATION, ALONG BIRNIN KEBBI ROAD, FARFARU AREA, SOKOTO, SOKOTO STATE |
| 574 | SOKOTO | SOKOTO | SOKOTO STATE UNIVERSITY, CBT CENTRE, ALONG BIRNIN KEBBI ROAD, MADORAWA SOKOTO, SOKOTO STATE |
| 575 | SOKOTO | SOKOTO | JAMB STATE OFFICE, BLOCK 6, THIRD FLOOR, SHEHU KANGIWA SECRETARIAT, SOKOTO, SOKOTO STATE (REGISTRATION ONLY) |
| 576 | SOKOTO | SOKOTO | USMANU DANFODIYO UNIVERSITY, SOKOTO, CBN HALL, PRO METRIC ICT CENTRE, MAIN CAMPUS, SOKOTO, SOKOTO STATE |
| 577 | SOKOTO | SOKOTO | UMARU ALI SHINKAFI POLYTECHNIC SOKOTO, ICT CENTRE, OFF AIRPORT ROAD, FARFARU AREA, SOKOTO, SOKOTO STATE. |
| 578 | SOKOTO | SOKOTO | USMANU DANFODIYO UNIVERSITY ICT CENTRE, DUNDAYE, MAIN CAMPUS, SOKOTO, SOKOTO STATE |
| 579 | SOKOTO | SOKOTO | TOTAL ICT CENTRE, OPP. STAFF SECONDARY SCHOOL, SHEHU SHAGARI COLLEGE OF EDUCATION SOKOTO, SOKOTO STATE |
| 580 | SOKOTO | SOKOTO | PENTA M&F TECHNICAL SERVICES LTD, CENTRE 2, 96KM SOKOTO-JEGA ROAD, TAMBUWAL LGA, SOKOTO, SOKOTO STATE |
List of JAMB Approved CBT Registration Centers In TARABA
| | | | |
| --- | --- | --- | --- |
| 581 | TARABA | BALI | FEDERAL POLYTECHNIC (PERMANENT SITE) ICT CENTER 1, JALINGO ROAD, BALI, TARABA STATE |
| 582 | TARABA | JALINGO | JAMB PROFESSIONAL TEST CENTRE (PTC), JAMB STATE OFFICE, OLD TEACHERS COLLEGE, JALINGO, TARABA STATE |
| 583 | TARABA | JALINGO | PEACOCK COLLEGE OF EDUCATION, NO. 2, HOSPITAL ROAD, JALINGO, TARABA STATE |
| 584 | TARABA | BALI | FEDERAL POLYTECHNIC, (PERMANENT SITE)ICT CENTRE ANNEX, BALI, TARABA STATE |
| 585 | TARABA | TAKUM | TARABA STATE COLLEGE OF HEALTH AND TECHNOLOGY, BEHIND GEN. HOSP. TAKUM, TARABA STATE |
| 586 | TARABA | WUKARI | FEDERAL UNIVERSITY WUKARI, ALONG KASTINA-ALA ROAD, WUKARI, TARABA STATE |
| 587 | TARABA | JALINGO | STENA IT ACADEMY CBT CENTRE, EQUATY PLAZA, BEHIND POLARIS BANK, TARABA STATE |
| 588 | TARABA | GEMBU | GSS GEMBU CBT CENTRE, KAKA QUARTERS, GEMBU, TARABA STATE |
| 589 | TARABA | JALINGO | DIGAL INDUSTRIAL ENTERPRISES , JALINGO, TARABA STATE |
| 590 | TARABA | JALINGO | YAGAI ACADEMY CBT CENTRE JALINGO, TARABA STATE |
| 591 | TARABA | BALI | FEDERAL POLYTECHNIC (PERMANENT SITE) ICT CENTER 2, JALINGO ROAD, BALI, TARABA STATE |
| 592 | TARABA | WUKARI | FEDERAL UNIVERSITY WUKARI, CENTRE – 2 , ALONG KASTINA-ALA ROAD, WUKARI, TARABA STATE |
List of JAMB Approved CBT Registration Centers In YOBE
| | | | |
| --- | --- | --- | --- |
| 593 | YOBE | DAMATURU | JAMB STATE OFFICE, DAMATURU, YOBE STATE (REGISTRATION ONLY) |
| 594 | YOBE | DAMATURU | YOBE STATE UNIVERSITY, LIBRARY, KM 7, GUJBA ROAD, P.M.B 1144, DAMATURU, YOBE STATE. |
| 595 | YOBE | GASHUA | UMAR SULEIMAN COLLEGE OF EDUCATION, ALONG NGURU ROAD, GASHUA, YOBE STATE. |
| 596 | YOBE | POTISKUM | FEDERAL COLLEGE OF EDUCATION (TECHNICAL), VIRTUAL LIBRARY, MOHAMMED IDRISSA WAY, POTISKUM, YOBE STATE. |
| 597 | YOBE | GASHUA | FEDERAL UNIVERSITY GASHUA, NGURU ROAD, P.M.B 1005, GASHUA, YOBE STATE |
| 598 | YOBE | DAMATURU | FEDERAL POLYTECHNIC, MAIDUGURI ROAD, DAMATURU, YOBE STATE |
| 599 | YOBE | NGURU | UNIVERSITY FOUNDATION ACADEMY, G.R.A, NGURU, YOBE STATE. |
| 600 | YOBE | POTISKUM | FEDERAL COLLEGE OF EDUCATION (TECHNICAL), POTISKUM, CENTRE 2, E- EXAM CENTRE, MOHAMMED IDRISSA WAY, POTISKUM, YOBE STATE. |
| 601 | YOBE | NGURU | ISAH NGURU VENTURES, MAI MUSTAPHA STREET EASTERN BYE PASS, CENTRE 1, NGURU, YOBE STATE |
| 602 | YOBE | NGURU | ISAH NGURU VENTURES, MAI MUSTAPHA STREET EASTERN BYE PASS, CENTRE 2, NGURU, YOBE STATE |
List of JAMB Approved CBT Registration Centers In ZAMFARA
| | | | |
| --- | --- | --- | --- |
| 603 | ZAMFARA | GUSAU | FEDERAL COLLEGE OF EDUCATION (TECHNICAL), ALONG ZARIA ROAD, GUSAU, ZAMFARA STATE |
| 604 | ZAMFARA | GUSAU | JAMB STATE OFFICE, GUSAU, ZAMFARA STATE (REGISTRATION ONLY) |
| 605 | ZAMFARA | GUSAU | ZAMFARA COLLEGE OF ARTS AND SCIENCE (ZACAS), CBT CENTRE, OLD YAHAYA GUSAU SECRETARIAT, SOKOTO ROAD, GUSAU, ZAMFARA STATE |
| 606 | ZAMFARA | TALATA MAFARA | TALATA MAFARA DEVELOPMENT TRUST FUND CBT CENTER, ZONAL EDUCATION OFFICE OPPOSITE GGC, TALATA MAFARA, ZAMFARA STATE |
| 607 | ZAMFARA | GUSAU | RAUDHA TECHNOLOGIES LTDRNPLOT 1446 EASTERN BYE- PASS ADJACENT CUSTOMS OFFICE, GUSAU, ZAMFARA STATE |
| 608 | ZAMFARA | KAURA NAMUDA | NANANET GLOBAL FLEET CBT CENTER RN101 OPPOSITE STAFF QUARTERS GATE, GOVERNMENT TECHNICAL COLLEGE, KAURA NAMODA, ZAMFARA STATE |
List of JAMB Approved CBT Registration Centers IN FCT
| | | | |
| --- | --- | --- | --- |
| 609 | FCT | BWARI | JAMB PROFESSIONAL TEST CENTRE (PTC), KOGO, BWARI, ABUJA, FCT |
| 610 | FCT | ABUJA II(BWARI/DUTSE/KUBWA/DEI-DEI) | JAMB PROFESSIONAL TEST CENTRE (PTC), JAMB HEADQUARTERS, ALONG LAW SCHOOL ROAD, BWARI, ABUJA, FCT |
| 611 | FCT | APO | JAMB FCT ZONAL OFFICE , NO 19 KARAYE STREET, OFF AMURIE OMANZE STREET, OFF LADOKE AKINTOLA BOULEVARD, GARKI II, ABUJA, FCT (REGISTRATION ONLY) |
| 612 | FCT | GWAGWALADA | CHRIST THE KINGS COLLEGE, CHRIST THE KINGS COLLEGE ROAD GWAGWALADA, ABUJA, FCT |
| 613 | FCT | KUJE | ISLAMIC LEADERSHIP ACADEMY, BEHIND FOREST ZONE, KUJE, FCT |
| 614 | FCT | MAITAMA | TIGH TECHNOLOGIES LIMITED , SASCON INTERNATIONAL SCHOOL N0.19 YESERDAM STREET MAITAMA , ABUJA, FCT |
| 615 | FCT | MAITAMA | SASCON INTERNATIONAL SCHOOL CBT CENTER, N0. 19 YESERDAM STREET , MAITAMA, ABUJA , FCT |
| 616 | FCT | UTAKO | DIGITAL BRIDGE INSTITUTE N0. 8 P.O.W MAFEMI CRESCENT UTAKO, ABUJA, FCT |
| 617 | FCT | GWARIMPA | LEAD BRITISH INTERNATIONAL SCHOOL, BESIDE FEDERAL STAFF HOSPITAL, SETRACO GATE, GWARIMPA, ABUJA, FCT |
| 618 | FCT | GWAGWALADA | BEST INTELLECT INTERNATIONAL ACADEMY CBT, NO 93 OGUNSAIKI STREET, ALONG CENTRAL MOSQUE OLD KUTUNKU, GWAGWALADA, ABUJA. |
| 619 | FCT | LIFE CAMP | JC BEST SCHOOLS INTERNATIONAL CBT CENTRE ONE(1), AFTER GODAB ESTATE, BY CORNER-VIEW PLAZA, LIFE CAMP FCT |
| 620 | FCT | APO | JAMB FCT LIASON OFFICE, FEDERAL SECRETARIAT, ABUJA (REGISTRATION ONLY) |
| 621 | FCT | JAHI | ADUVIE INTERNATIONAL SCHOOL, N0 1 ADUVIE CLOSE OFF ADUVIE WAY, JAHI DISTRICT , ABUJA, FCT |
| 622 | FCT | KUBWA | ADEOLA INTERNATIONAL SCHOOL, OPPOSITE (ARMY)VETERAN PLAZA, KUBWA, ABUJA, FCT |
| 623 | FCT | DUTSE | TOTAL CHILD COMPUTER AND CBT CENTRE, PLOT 17A, SAGWARI LAYOUT, DUTSE MAKARANTA, ABUJA, FCT |
| 624 | FCT | MAITAMA | BEAUTIFUL BEGINNING ACADEMY LTD, APO LEGISLATIVE QUARTERS, ZONE E. |
| 625 | FCT | DEI-DEI | KINGS COMPREHENSIVE COLLEGE, OFF RAILWAY BRIDGE BY CHINESE COMPANY SABURI, DEI-DEI, ABUJA , FCT |
| 626 | FCT | ASOKORO | WILLSTROM LIMITED. NAOWA INSTITUTE OF MANAGEMENT AND TECHNONLOGY, MAMBILLA BARRACKS, ASOKORO, ABUJA, FCT |
| 627 | FCT | KURUDU | LINCOLN COLLEGE OF SCI, MGT AND TECHNOLOGY, JIKWOYI. |
| 628 | FCT | GWAGWALADA | CHRIST ACADEMY INTERNATIONAL SCHOOL, PLOT 232 CHRIST ACADEMY STREET OFF ALLIED SURGERY EXPANSION, GWAGWALADA, ABUJA, FCT |
| 629 | FCT | LIFE CAMP | JC BEST SCHOOLS INTERNATIONAL CBT CENTRE TWO(2), AFTER GODAB ESTATE, BY CORNER-VIEW PLAZA, LIFE CAMP, FCT |
| 630 | FCT | KURUDU | LA-VOGUE BRITISH INTERNATIONAL SCHOOL, KARSHI, BY CHRIST CATHOLIC CHURCH, KURUDU, FCT. |
| 631 | FCT | KUBWA | ROSA-MYSTICA ACADEMY , LIBERTY JUNCTION WATER BOARD ROADBYAZHIN, KUBWA, FCT |
| 632 | FCT | KUJE | HANDMAIDS GIRLS SECONDARY SCHOOL, PLOT 783 + 784, SAUKA EXTENSION, KUJE, ABUJA, FCT |
| 633 | FCT | ASOKORO | 23 TECHNOLOGIES LIMITED .NAF VALLEY ESTATE , 3PL OBENE KANU STREET, OFF SB ABUBAKAR AVENUE BEHIND ABACHA BARRACKS, ASOKORO, ABUJA, FCT |
| 634 | FCT | JIKWOYI | JUNIOR SECONDARY SCHOOL, JIKWOYI, NO 2, BEFORE MOBIL FILLING STATION, JIKWOYI, FCT. |
| 635 | FCT | MARARABA | EMIS CBT CENTRE, EPITOME ISLAMIC CLOSE, OFF SANI ABACHA ROAD, OLD KARU ROAD, FCT. |
| 636 | FCT | ABUJA | DANTATA UNIVERSAL SEERVICES, GSS, WUSE ZONE 3, CLOSE TO CUSTOMS HEADQUARTERS, FCT |
| 637 | FCT | MARARABA | ZINARIA INTERNATIONAL SCHOOL MARARABA, ABUJA KEFFI EXPRESS WAY, OPPOSITE MONACO MALL, FCT |
| 638 | FCT | WUSE | TUDUN WADA CBT CENTER, GOVERNMENT SECONDARY SCHOOL, TUDUN WADA, ZONE 4. |
| 639 | FCT | GADUWA | GAAT INTERNATIONAL SCHOOL, PLOT 265, CADASTRAL ZONE, B13 GADUWA DISTRICT, ABUJA. |
| 640 | FCT | KARU | SKILLPATH INTERNATIONAL ACADEMY, SUPREME COURT QUARTERS, BEHIND CUSTOM HOSPITAL, NEAR PRESON HOTEL, KARU SITE. |
| 641 | FCT | GWARIMPA | CAPVILLE SCHOOLS, PLOT 2-4 JULIEST ULTIMATE DRIVE, OFF CAPVILLE AVENUE BY PUBLIC SERVICE INSTITUTE OF NIGERIA, GWARIMPA-KUBWA EXPRESS WAY. |
| 642 | FCT | APO | FOZY GLOBAL CONCEPTS LTD, CBT CENTER, GOVERNMENT SENIOR SECONDARY SCHOOL (GSS), APO, FCT |