TOEFL vs IELTS: WHICH IS MORE PREFERABLE TO TAKE TO STUDY ABROAD?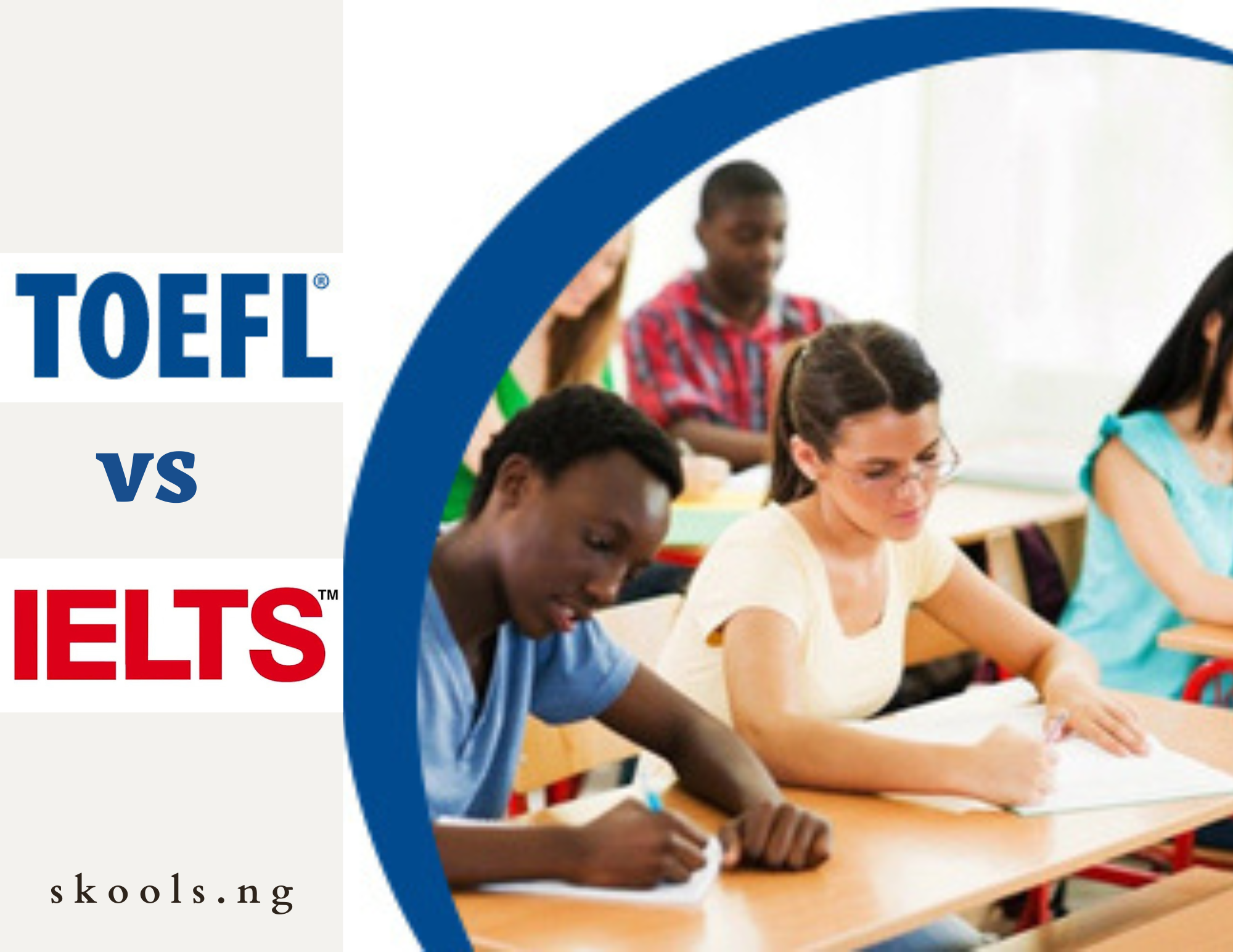 Choosing the right examination to take between IELTS vs TOEFL seems to be a great challenge for most students seeking to study abroad.
Most non-English native speakers are always required to sit an English language proficiency test as part of the criteria to study abroad at an English-speaking university.
The two most accepted English language tests worldwide are the International English Language Test System (IELTS) and Test of English as a Foreign Language (TOEFL) tests hence the IELTS vs TOEFL challenge.
Whilst both accurately test your level of English and are widely accepted across over thousands of institutions worldwide, the two tests are different in their approach, structure and teaching criteria, so you should think carefully about which one you'll choose to sit.
This article highlights the basic things you need to know about IELTS and TOEFL and it is intended to help you decide which is best for you.
What is TOEFL?
Test of English as a Foreign Language (TOEFL) is a standardized test to measure the English language ability of non-native speakers wishing to enroll in English-speaking universities.
For the U.K., TOEFL iBT test scores are accepted for Tier 4 student visas under certain conditions. Please visit U.K. Visas for more information.
* Source: Survey of 263 admissions officers at U.S. universities, of which 212 accept both the TOEFL®test and the IELTS™ test and 152 states a preference.
The test is accepted by many English-speaking academic and professional institutions. TOEFL test seeks to test your ability to communicate in English in specifically academic, university and classroom-based settings. It is accepted by over 8,500 institutions across 130 countries, including the UK, USA, and Australia, as well as all of the world's top 100 universities.
TOEFL EXEMPT NATIONS, LISTED BY 21 AMERICAN UNIVERSITIES:
Anguilla (exempted from the TOEFL by 10 out of 21 surveyed schools)
Antigua (TOEFL exempted by 16 of 21 schools)
Bahamas (exempted by 18 of 21 schools)
Barbados (exempted by 17/21 schools)
Belize (19/21 schools)
Bermuda (13/21)
Botswana (13/21)
Brunei (5/21)
Cameroon (4/21)
Cayman Islands (14/21)
Cyprus (2/21)
Dominica (15/21)
Eritrea (1/21)
Ethiopia (3/21)
Fiji (11/21)
Gambia (12/21)
Ghana (13/21)
Grenada (15/21)
Guyana (17/21)
India (9/21)
Jamaica (17/21)
Kenya (10/21)
Kiribati (8/21)
Lesotho (10/21)
Liberia (17/21)
Malawi (10/21)
Malta (8/21)
Marshall Islands (5/21)
Mauritius (10/21)
Micronesia (8/21)
Montserrat (11/21)
Namibia (7/21)
Nauru (4/21)
Nigeria (13/21)
Pakistan (2/21)
Palau (3/21)
Papua New Guinea (7/21)
Philippines (8/21)
Rwanda (1/21)
Samoa (7/21)
Seychelles (5/21)
Sierra Leone (14/21)
Singapore (8/21)
Solomon Islands (5/21)
South Africa (19/21)
Sri Lanka (3/21)
Kitts and Nevis (15/21)
Lucia (16/21)
Vincent and Grenadines (16/21)
Sudan (1/21)
Swaziland (9/21)
Tanzania (9/21)
Tonga (4/21)
Trinidad and Tobago (17/21)
Turks & Caicos (7/21)
Tuvalu (2/21)
Uganda (13/21)
Vanuatu (5/21)
Vatican City (2/21)
Zambia (10/21)
Zimbabwe (14/21)
TOEFL is administered by US-based organization The Education Testing Service, and so is conducted in American English. This test is more likely to be favored by American institutions.
TOEFL SCORES INTERPRETATIONS
Reading 0–30

Low (0–14)
Intermediate (15–21)
High (22–30)

Listening 0–30

Low (0–14)
Intermediate (15–21)
High (22–30)

Speaking 0–30

Weak (0–9)
Limited (10–17)
Fair (18–25)
Good (26–30)

Writing 0–30

Limited (1–16)
Fair (17–23)
Good (24–30)
Total Score 0–120
What is IELTS?
IELTS means International English Language Testing System and it is a test of English language proficiency. The test is designed to assess the language ability of non-native speakers of English who intend to study or work where English is the language of communication. IELTS is an English language test that is used for educational, immigration and occupational purposes and is accepted by over 9,000 institutions across 130 countries worldwide.
Jointly administered by the British Council, University of Cambridge ESOL Examinations and IDP Education Australia, IELTS uses British English and is more likely to be favored by UK and institutions in Commonwealth nations such as New Zealand and Australia. Depending on the entry requirements of the study program, one might need to take either the Academic or General Training IELTS exam.
IELTS SCORING SYSTEM
All IELTS scores are between 0 – 9. One can also get '.5' scores as well (for example, 2.5 or 5.5). A band score is awarded for each skill (listening, reading, writing, and speaking) and also an overview band score. The overall band score is the average score of all the skills.
The overall band score is rounded to the nearest whole or half band. For example: If one scores 7.5 for Listening, 8.5 for Reading, 6.0 for Writing and 5.0 for Speaking, you will be awarded an Overall Band Score of 7.0. Total score of 27 ÷ 4 = 6.75 which is a band score of 7.0.
IELTS vs TOEFL General Differences
TOEFL is basically for students as it focuses specifically on academic, university and classroom-based settings while IELTS can be for anyone as it test spans outside the classroom-based setting.
Aside from the different styles of English, each exam is based on, TOEFL exam questions are almost entirely multiple choice, whereas IELTS requires you to respond to a range of different question types such as short answer, gap-filling, and short essay tasks.
The IELTS is significantly shorter than the TOEFL exam, taking approximately 2 hours and 40 minutes as compared to the 4 hours to complete TOEFL examination.
There is only one type of TOEFL exam that is done entirely on the computer, whereas there are two types of IELTS that are both completed on paper. Students applying for English-speaking tertiary programmes will need to sit the Academic IELTS exam, whereas the General Training exam is used to meet immigration and some occupational requirements.
IELTS vs TOEFL favor different modes of thought and problem-solving. As TOEFL is primarily multiple choice, students will need to be able to think analytically to weigh up the differences between their options. IELTS requires more use of memory and draws on broader comprehension skills as students are faced with different question styles.
However, you can study in some universities in foreign countries without TOEFL or IELTS, such countries include;
Canada: Many universities in Canada do not require IELTS or TOEFL.
Australia
Germany
United States of America
Malaysia