Best Criminology Universities Around the World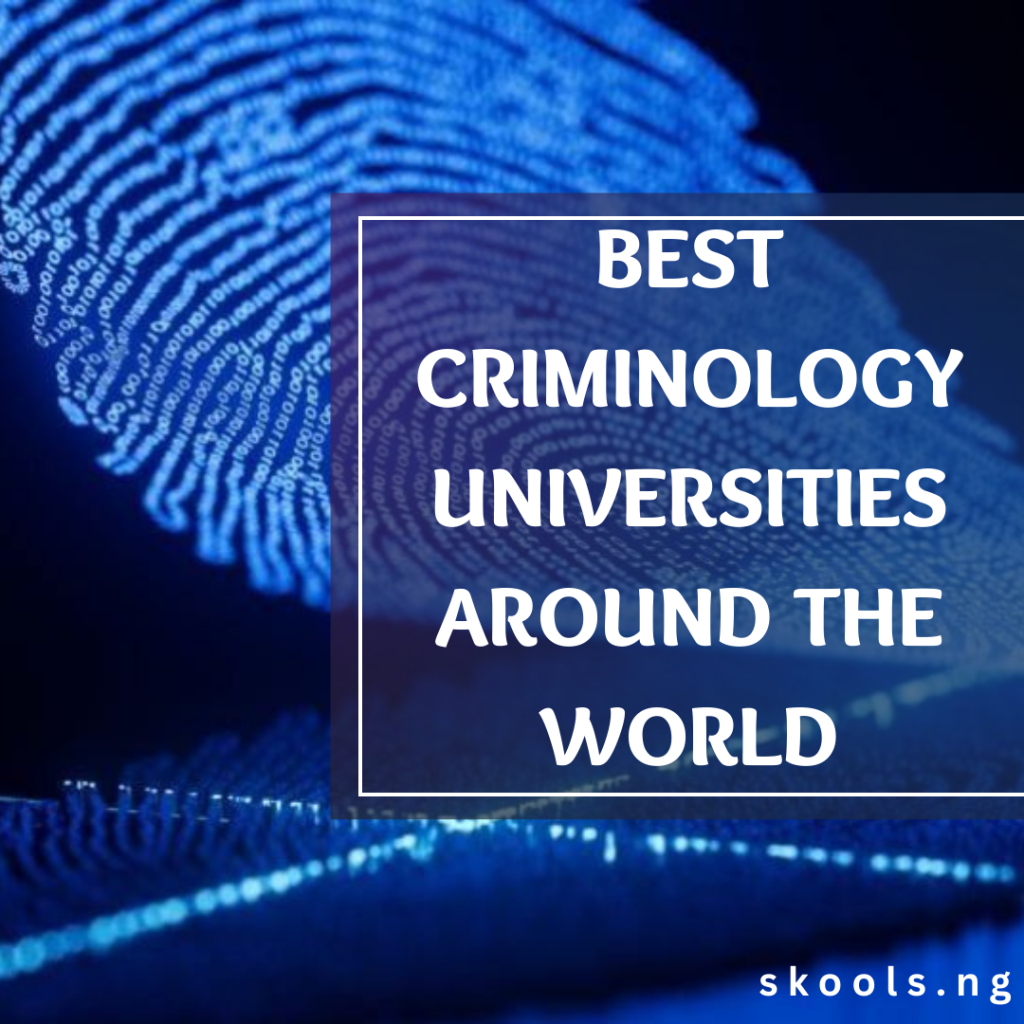 It can be difficult to pick among the best criminology universities around the world for studies. It's crucial to pick a university with a solid criminology program that provides a variety of courses and research opportunities because criminology is a varied field that necessitates a multidisciplinary approach. We'll examine some of the best criminology universities around the world.
What is Criminology
The scientific study of crime, including its causes, effects, prevention, and control, is known as criminology. It is an interdisciplinary field that incorporates the theories and practices of numerous academic fields, including sociology, psychology, law, economics, and anthropology. Understanding the nature and scope of criminal conduct and creating efficient measures to curtail it are the fundamental goals of criminology.
Over time, criminology has changed as a field, shifting from an emphasis on individual pathology and deviance to one that is more systemic and structural. Criminologists now study social, economic, and political aspects like poverty, inequality, discrimination, and the criminal justice system itself that influence crime.
The capacity to offer crime-solving strategies based on solid data is one of criminology's major contributions. Criminologists perform study and analysis to find the best laws, regulations, and other methods for deterring and reducing crime. For instance, it has been demonstrated that evidence-based policing, which involves using statistics and research to direct law enforcement methods, lowers crime and boosts community trust.
Opportunities Available for Criminology Graduates
Research and analysis
Research and analysis positions are available for criminology graduates in the public and private sectors, such as those of research analysts for governmental organizations or think tanks.
Private Security
Criminal justice graduates may choose to work in private security, such as as security managers or detectives for private companies.
Education
You can become a professor of criminology or a teacher in high schools or community colleges with a degree in criminology.
Law Enforcement
Criminal justice graduates can work for local, state, or federal law enforcement organizations like the FBI, the Drug Enforcement Administration, or the police department (DEA). Officer on patrol, detective, crime scene investigator, and other positions are all possible.
Corrections
Graduates in criminology can find employment as probation or parole officials, therapeutic specialists in corrections, or counselors in correctional facilities like jails and prisons.
Legal services
Some criminology graduates may decide to work in this field, such as as paralegals, court clerks, or legal assistants.
Social services
A criminology degree can prepare you for employment in social services organizations like child welfare organizations, domestic violence shelters, or shelters for the homeless.
---
Best Criminology Universities Around the World
University of Oxford
The Faculty of Law at Oxford University houses a renowned program in criminology and it's clearly among the best criminology universities around the world. The Oxford University criminology program places a strong emphasis on a multidisciplinary approach to the study of crime and justice, incorporating ideas from the legal system, sociology, psychology, anthropology, and other disciplines.
Students can pursue a Bachelor of Arts (BA) in Jurisprudence with a criminology specialization at the undergraduate level. The three-year BA in Jurisprudence curriculum integrates the study of legal theory and practice with a variety of electives, including criminology courses.
A Master of Science (MSc) in Criminology and Criminal Justice is an option for graduate students. The MSc program is made to give students a thorough grasp of the reasons behind crime, its effects, and the methods and laws that can be employed to stop it. The curriculum emphasizes research, and each student must finish a thesis.
University of Cambridge
Cambridge University is a notable university with its headquarters in Cambridge, England. Its criminology program is well-established and well-regarded, among the best criminology universities around the world, and it grants both undergraduate and graduate degrees in the subject.
The Social and Political Sciences degree program offers undergraduate students the opportunity to study criminology, where they can learn about the origins and effects of criminal activity as well as the methods used to control and prevent it.
A Master of Philosophy (MPhil) or PhD in Criminology is an option for graduate students who want to conduct in-depth study and analysis in the subject. The sociology of law and deviance, criminological theory, and crime and criminal justice are among the subjects covered in the graduate program.
University College London
University College London (UCL) is one of the top universities in the world and is situated in the center of London. A variety of criminology courses are available through UCL's Department of Security and Crime Science, which is well known around the world for its cutting-edge research in the discipline.
The goal of UCL's criminology program is to provide students a broad understanding of the nature and causes of crime as well as the methods for preventing and managing it. A variety of subjects are covered in the curriculum, such as the sociology of crime and deviance, criminal psychology, crime statistics, criminal justice systems, and crime policy.
The course is perfect for students who want to learn more about the social, psychological, and legal elements of crime and crime prevention or who want to pursue jobs in the criminal justice system or related professions.
University of Chicago
A reputable university with well-regarded criminology and criminal justice departments is the University of Chicago. The university is home to a number of criminology and criminal justice-related institutes and centers, including the Crime Lab, the Urban Labs, and the Institute for Juvenile Research, in addition to its courses and research.
These facilities give students the chance to engage in practical learning and research, and they also seek to advance criminal justice-related public policy.
Yale University USA
A variety of criminology and criminal justice courses and programs are available at Yale University. The institution provides master's degree programs in criminal justice, law, and social policy in addition to a Ph.D. program in criminology.
The Institution for Social and Policy Studies, the Institution for Social Policy Studies, and the Center for the Study of Race, Inequality, and Politics are just a few of the criminology and criminal justice research facilities that are located at Yale University in addition to its academic programs. Students can participate in research and policy-related activities at these centers and contact with top authorities in the subject.
Columbia University USA
The Columbia University criminology department offers students an integrative approach to comprehending crime and abnormal behavior. To provide a thorough understanding of the causes and effects of crime, it incorporates viewpoints from sociology, psychology, law, and political science.
Students enrolled in Columbia University's criminology department can anticipate learning about a variety of subjects, including juvenile justice, criminal justice policy, crime and victimization, and the interconnections of race, gender, and crime. In order to prepare them for professions in criminal justice, social work, and similar sectors, they will also acquire practical skills through real-world experiences including internships and fieldwork.
University of Michigan – Ann Arbor USA
The Department of Sociology at Michigan University offers a variety of academic degrees, including criminology. Students who enroll in Michigan University's criminology department graduate with a thorough understanding of crime, the criminal justice system, crime causation theories, research techniques, criminal conduct, and the administration of justice.
Students in the criminology program have the chance to participate in practical research and internship activities, enabling them to put their newly gained knowledge to use in practical settings.
---
Also Read:
---
Johns Hopkins University
The Johns Hopkins University Department of Criminology is renowned for its cutting-edge and interdisciplinary approach to the study of crime and justice. Students have the chance to learn about a variety of criminal justice subjects in the department, such as law enforcement, incarceration, and the causes and effects of crime.
The criminology curriculum offers a wide range of electives, including courses in policing, corrections, and research methodologies. A number of specialty courses are also offered by the department, including ones on the sociology of aberrant conduct and the social and psychological causes of crime.
University of Pennsylvania, Philadelphia
Philadelphia, Pennsylvania is home to the private Ivy League research university known as the University of Pennsylvania (Penn). The Department of Criminology in the School of Arts and Sciences is where Penn University's criminology program is located. There are undergraduate and graduate degrees in criminology offered by Penn's department, including a Ph.D. in criminology, a Master of Arts in criminology, and a Bachelor of Arts in criminology.
In the criminology curriculum, students have the chance to learn about a variety of subjects, such as the factors that lead to crime, the criminal justice system, and how crime affects both communities and individuals.
University of Florida, Gainesville, FLA
The Department of Sociology and the College of Liberal Arts and Sciences both house the University of Florida's criminology program. The list of the best criminology universities around the world would not be complete without it. Both a Bachelor of Arts in Criminology and a Master of Science in Criminology and Law are available through the program.
The criminal justice system's function in society, the causes and effects of criminal activity, and the effects of crime on people, communities, and society at large are all major topics covered in the criminology program's curriculum. A career in criminology or law enforcement requires a solid basis in research techniques, critical thinking, and problem-solving, which the program teaches students.
Griffith University, Australia
The study of crime, criminal justice, and the criminal justice system are the main topics covered in the Bachelor of Criminology and Criminal Justice degree offered by Griffith University in Australia. Criminology theory, the criminal justice system, crime and justice in a global perspective, policing and criminal investigations, and correctional and community justice are just a few of the topics covered in the program.
With the help of the degree, students can get the information and skills necessary to apply their understanding of the causes of crime and how it is dealt with in the real world. Additionally, students can participate in work-integrated learning opportunities through internships and professional placements, which give them practical experience and aid in developing their professional networks.