Steve Eshiemogie Scholarship 2023 | Eligibility & Application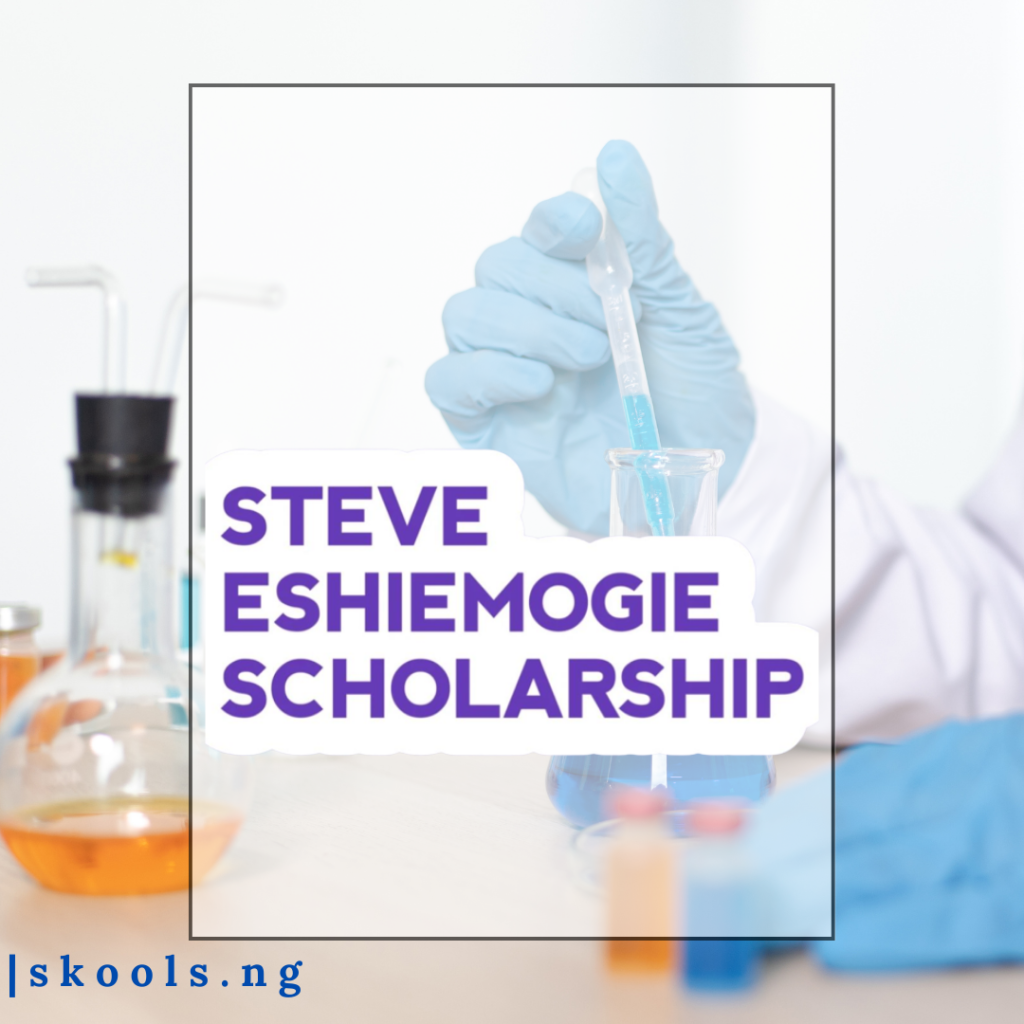 About Steve Eshiemogie Scholarship 2023
The Steve Eshiemogie Scholarship is open to final year undergraduate students enrolled in Nigerian federal government universities. Students interested in biological sciences and engineering as long-term professions are the intended audience for this scholarship. Students must have a strong interest in the use of biotechnology for the continent of Africa's sustainable growth and development.
This scholarship is designed to pique students' interest in biotechnology. Since its inception in the early 1970s, modern biotechnology has been used to produce a wide range of chemicals, biopharmaceuticals, and other goods on a massive scale.
The Steve Eshiemogie Scholarship seeks to inspire the next generation of African biotech scientists and engineers to pursue knowledge that will aid in the continent's continued development and progress.
Steve Eshiemogie Scholarship Benefits
Benefits of the Steve Eshiemogie Scholarship;
Full tuition coverage.
Professional career mentorship.
Other benefits to be decided.
Steve Eshiemogie Scholarship Eligibility
Must be a Nigerian student studying in Nigeria.
Must be enrolled in a "Federal" government university.
Must be studying any of the following courses:

Chemical engineering
Biology
Microbiology
Biochemistry
Cell and molecular biology
Plant biology or related courses.

Must be going to final year of undergraduate study. That is, must have completed 300 Level if your course is a 4-year course, or must have completed 400 Level if your course is a 5-year course.
Must have a last sessional CGPA of at least 4.3 on a 5.0 scale, or 3.3 on a 4.0 scale.
Must not be a current recipient of any other scholarship.
Steve Eshiemogie Selection Criteria
This award strikes a balance between merit and need. Prior to choosing the children with the greatest need from the pool, the selection committee looks out for pupils who have demonstrated exceptional performance. If you meet the scholarship's eligibility standards, you are strongly encouraged to apply.
---
Read Also:
---
How to Apply For Steve Eshiemogie Scholarship
Applicants are required to;
Write a statement of purpose. Detail your reasons for taking the course in your statement of purpose, as well as your goals for the future. Explain why you chose to enroll in your current course of study, the difficulties you have faced thus far, the research you intend to conduct for your undergraduate project, your future plans, how you intend to contribute to your nation and Africa as a whole after graduation, and any other accomplishments or details you feel would strengthen your application. The applicant should make every effort to show their need for the award. You should save your statement of intent as a PDF file and keep it to no more than two pages.
Draft a well structured CV/Resume and save it in PDF format.
Obtain 2 letters of recommendation from leturers (or professors) in your department. Scan these letters and save in PDF format. You can scan these letters with your mobile phone.
Obtain a signed letter from your HOD or course advisor, confirming that you are not a beneficiary of any other scholarship.  Download and use the draft attached.
Obtain a copy of your undergraduate transcript showing your grades from 100 Level to your current level. Download and use the self-reported transcript template attached.
Prepare a document that clearly states the full amount of your tuition (school fee), start and end date of your final year of study, official deadline for payment of your school fee, your undergraduate project topic (if you have one) and budget for your undergraduate project (if you have one).
Send all documents to steveeshiemogie@steveeshiemogie.com. The subject of the email should be STEVE ESHIEMOGIE SCHOLARSHIP 2022.
NOTE:
The statement of intent can be written in any style. Put your own thoughts and ideas in your own words.
 You are not qualified for the Steve Eshiemogie Scholarship if you are a beneficiary of MTN Scholarship, Shell Scholarship, Seplat Scholarship, Agbami Scholarship, FSB Scholarship, or any other undergraduate scholarship.
 Self-reported transcripts are accepted. That is, if you cannot obtain official transcripts from your institution, you can draft your transcripts by yourself (no need for official signature or stamp from your institution.
all documents should be saved in PDF format. Within 5 days of submission, you will receive a mail notifying you of receipt of your application materials. If you do not receive any notification email, send complaints to steveeshiemogie@gmail.com.
Itinerary
Application opens 9th January, 2023.
Application closes 9th Febraury, 2023.
Scholars notified 14th Febraury, 2023.